Even wonderful things sometimes have to end. That's the sad fact about Becht Elementary School. After many decades of being a wonderful, neighborhood school, Becht is closing. My visit came the day after they had an evening to remember and celebrate the school's long history.
The Van Patters have their own memory of Becht school. It's where my wife went for elementary school. Here's Alison on her first day of 2nd grade, new pencil box in hand. And when I showed her this picture I took of the hall, she told me Rm. 100 (the door on the right) was her first grade class -- taught by Mrs. Nicholas, who left part way through the year to have a baby.
Though the story of Becht school may be coming to its final chapter, the stories from its kids keep on beginning. In the assembly, we came up with a woman animal doctor trying to teach pets to swim! This cat still makes me grin.

Scenes from a great day

| | |
| --- | --- |
| | Becht kids have such active imaginations. What fun it is to work with kids who already have their imaginations humming. |
My thanks also go out for this wonderful bulletin board, which has an amazing amount of detail from my book.

I'm wondering, though, how come Max gets top billing?
So, Becht kids and teachers... this is not the end of your story. It's just the beginning. One chapter has ended, a new one starts. Keep those stories flowing. Your ideas are so good, they deserve to be put onto paper and shared with others.
Thanks for such a wonderful visit -- and for the good food and friendliness. I hope you all had as much fun as I did!
And don't forget to check out the pages on my website. There are all kinds of fun things here. For a good place to start, try Fun Stuff. And if you finish one of my stories in The Story Kitchen, email it -- I'd love to read it!
Stories we started
In our workshops, we brainstormed the following stories: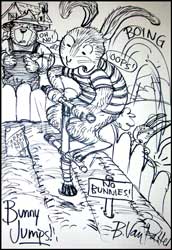 Bunny Jumps! A bunny who can't jump well gets a pogo stick, but by mistake jumps into the farmer's garden. As the bear chases him, though, the bunny helps by putting holes in the ground for seeds! Charming story.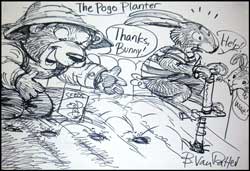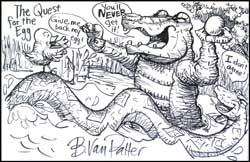 In The Quest for the Egg, a bird travels across a large pond and has many adventures as she tracks down her missing egg. The snake was added to the story because the doodle we worked from had a wavy line, which we all saw as water until one creative student thought of it as a snake!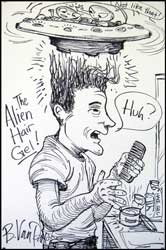 When a guy who loves his hair finds strange hair gel, it turns out to be The Alien Hair Gel! Two bumbling aliens are trying to save the world from the deadly stuff by removing the guy's hair!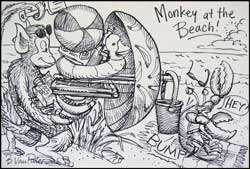 This kindergarten story has to do with a monkey who takes so much to the beach, he bumps into the lobster that owns it. In the end, they become friends only when the monkey finds a way to make his catching the ball as hard as it is for the lobster -- just to even things out.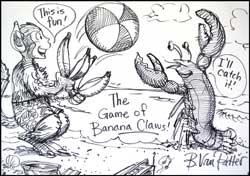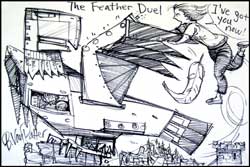 The Feather Duel shows a rare example of my drawing a mechanical thing. This story is very complicated, but this girl is trying to stop a genius kid and his giant robot eagle which is controlled by one real feather.