Birdsboro is a great place for making stories. The kids were so eager and ready to invent them. In the assembly, I have four kids give me random elements and then I walk up and start drawing and telling a story using those ingredients. In the workshops, we build stories more carefully, but still using the same four parts: main character, setting, want and problem.
The assembly stories
The four ingredients: a girl studying spells in a dungeon looking for her parents with a silly sidekick of a jester

The story: This girl is away at a castle charm school -- the "charms" are spells. She misses home terribly. So she gets her only friend, the jester to bring down to the dungeon the magic mirror through which she can speak to her parents.

But oh, no! The jester tripped on a small dragon. The mirror might break! I hope this isn't a poor reflection on his juggling skills!
---
The four ingredients: a bear in a cage looking for a pet up against a cheetah

The story: A bear lives in a rather sad zoo. It still has old-fashioned cages. He's lonely and bored. When a kitten wanders in his cage, he adopts her as his pet.

What he doesn't know is that the kitten goes to other cages, too. So now, there's a battle between the bear and the cheetah over who will get to keep the kitten.

I think the kitten has the right idea: sharing!
The workshop stories
This doodle started out as an evil genius kid with a giant brain. I made it into a hat, but he still is a genius. In our story, he captures an alien to use in a science fair. But then the alien disappears. What happened to him? His sister took him? Why? She wanted her pet guinea pig back!This was a good chance to talk about how "bad guys" have wants just like the main character.

I liked using a student's hair style and hair band for drawing the girl's hair.
---
What a fabulous doodle this was. It really helped us brainstorm a good character. See the guy's hand? We imagined that he was a shadow-puppet performer in medieval times. He falls in love with a princess, but the king will have no thought of him as a son-in-law!

So the king hides his daughter on an island cottage. What will the young man do to rescue his beloved? Use his skill, of course. He hopes to scare away the king just long enough to run away with the heart-broken princess.

The king ought to be proud of the lad. Every father wants a son-in-law who's good with his hands.
---
This isn't just a dancing pig, it's a hula pig! When the Wheel of Fiction gave us a quest for a story, we thought of ways our dancing pig might learn moves from dangerous situations he finds himself in as he travels toward Hawaii for a hula contest. His biggest problem? The farmer who wants him back on the farm!
Wow! What a great day. It was a high-energy time full of flowing ideas. Birdsboro Kids, you DO have great ideas. Don't ever forget it.

Remember the fun it was to make up stories. Keep that fun alive by continuing to put your own stories on paper!

| | | |
| --- | --- | --- |
| | | During 4th grade recess, I met with some excited writers. They challenged me to do something random. So I drew this dog without looking! That's a first for me! |

In addition to all the free material on this site, I have downloadable books that are perfect for keeping kids writing in school or at home!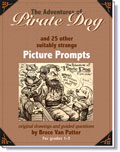 The Adventures of Pirate Dog
Picture prompts are a great way to inspire kids to write! Here are 26 of my best drawings with fun, pre-writing worksheets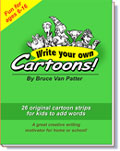 Write Your Own
Cartoons!
Kids can add the
dialogue and their special touches to my funny comic strips filled with wacky characters!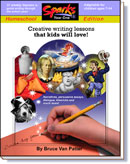 Sparks: Year One
Here's a fantastic resource for teachers: a whole year of weekly creative writing lessons built around wacky holidays!