Welcome to a school where...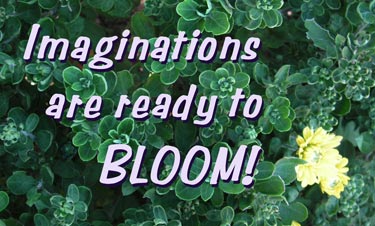 The first school of the year is always an exciting time for me. I can't wait to see what stories will begin what usually ends up being a year's total of a hundred stories -- and drawings. This school got the year off to a grand start, with eager students and fresh ideas, ready to blossom into interesting stories.
---

You might think, by all these pictures of student artists, that the day was all about art. It is true that we draw a lot. But we use drawing as a way to get the imagination started. The art "draws" us into stories. Above, you can see a "doodler" turning a shape into a drawing. Below on the right is an artist with her amazing and beautiful watercolor -- something she did in class but I wanted to show the audience. And below on the right is one of my brave character-makers. He wasn't sure he could draw a person, but he did a fabulous job!

---
Then there are these two examples, above. On the left, you can see a third grade student turning a pretty hard squiggle into an interesting guy. And on the right, a boy named Eric made this cool dog-vampire-viking thing. Or is it a ghost? Doesn't matter. Eric showed real creativity. All my thinkers and artists did!
---
The Assembly Stories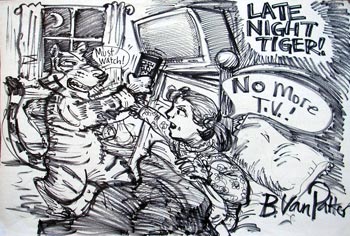 In the first assembly, a girl is trying to keep her pet tiger from watching too much TV. It's keeping her up at night. Seems like something Hobbes would do to Calvin.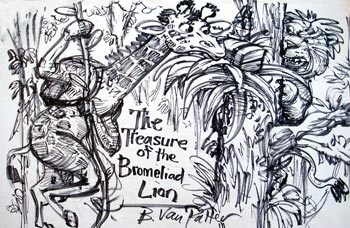 And in the second assembly, a giraffe is looking for treasure high in the canopy of the rainforest. I introduced a new word to many of the children: bromeliad. It's a type of plant that grows on branches. The Bromeliad Lion guards the treasure. Sounds like an adventure for Max Bonker!
Don't let this be an end to your creative fun, kids! Keep putting your ideas down on paper, whether you draw or write. And remember to share them!

Thanks for a great day!
| | |
| --- | --- |
| | |
| | Bradford Heights students are really eager to get their ideas out in the open! And our workshops depended on them to come up with interesting stories. |
Four fantastic workshops!
Check out these stories: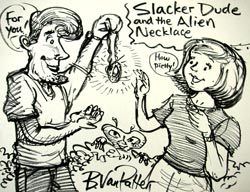 Slacker Dude and the Alien Necklace. We had an interesting character here: a young man whose secret is that he still lives with his parents. An alien gets into the story when the dude's girlfriend finds and starts wearing the alien's key to his spaceship! The slacker decides to help.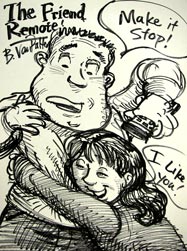 In The Friend Remote, a man afraid of people finds a magic remote that will make them like him. But he soon wishes he could have real friends instead of people under a spell! (Later I wished I had named this Remote Friends)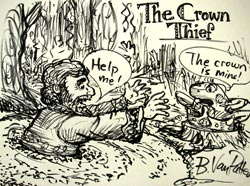 We started The Crown Thief with an interesting drawing of a frog inside a crown. We decided that the king wants his crown back, but the frog tricks him into quicksand! I think the king has a sinking feeling that he'll need the frog's help!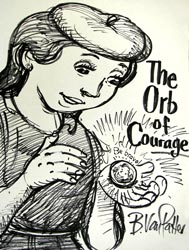 And in our last story, The Orb of Courage, a girl finds a large marble inside of which is a small image of a person. This person (one student, on the way out, thought it should be her mother. Cool!) gives the girl courage she badly needs. But when the orb is stolen, will she have the courage to get it back?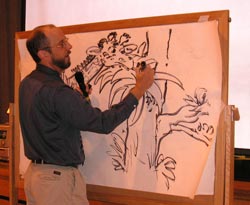 Your ideas, Bradford Heights kids,
inspired me!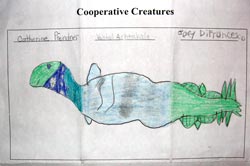 This school was already big on imagination. One class made creatures by add sections without seeing what the other artists had drawn first! Then they wrote stories about them. Excellent idea!