This was my first trip back to the Royersford area after living in Phoenixville for 10 years. It's also the first of many visits I'll be doing in the school district. Brooke students started things rolling in a big way!
The assembly drawings

The four ingredients: a dragon in a house who wants a friend up against a t-rex

The story: dragons have a hard time making friends. Everyone is scared of them. So our dragon hero invites over a t-rex, someone else who has trouble making friends. But as you can see, the t-rex isn't a very nice sort of fellow. He won't share the popcorn! Don't you just hate it when people do that?
The four ingredients: a pirate on Mt. Everest is looking for a squirrel with his sidekick of a baby

The story: our pirate is afraid of the water, so he's trying to find another way to prove his fierceness. So he decides to take his baby boy up onto Mt. Everest to try to capture the fabled Abominable Snow-Squirrel!

It seems like his son has found him first!
The Workshop Stories
An alien lands on earth but soon finds that the key to his space ship is missing! It seems that the owner of an amusement park saw him land and took his key as part of a plot to get the alien to help him.

This owner is having trouble getting people to come and ride his rides. The problem is that the rides are boring. There are no real thrills. So he takes the key to the spaceship in order to get the alien to work for him. He figures if the alien boy drives one of his rides, people will come.

In the picture, the alien has decided to use some of his rocket's engine to make this ride too thrilling! Maybe now he can get his key back!
I've never done a story about a hermit crab. This one was lots of fun as a crab uses a gang of starfish to help him find pearls.

In this story, he's after the Everlasting Pearl, one that allows the owner to live forever. But when he opens the giant oyster, he finds an ancient fish who begs him to take the pearl! Seems living a long, long time isn't all that much fun!
In this tale, we started with a dog who can hear really well. He has a friend who is a bug and the pooch can listen to his friend talk.

Somehow we also worked a magic bone and a bear into this story, but in the rush of stories I did this week -- three days in three different schools -- I can't quite remember how it all worked. But the dog tracks down his friend using his super-hearing and scares the bear into dropping the magic bone.

It was fun to get kids to try saying the title really fast. It's a nice alliteration.
I tell all the kids I visit in schools that a great way to come up with original ideas is to combine things. Well, here we combined a cowboy and Chinese culture. This sherrif grew up in China, where he learned to be very fast with chopsticks.

Back in the old west, he used the chopsticks to stop even flying bullets! (There's a fun one for Mythbusters to try out!) Now a mean monster of a man has decided if he can get rid of those chopsticks, nothing will stop his outlaw plans of robbing the bank.

Cue the evil laughter! (Ha, ha, haaaa!)
Hey, Brooke kids -- was that a fun day, or what? I had a blast, and I hope you did, too. The evening show was great as well. Thanks to all the parents who came to learn about making up stories.

Remember, you have great ideas! Put them down on paper and share them. Being creative is a fantastic way to live!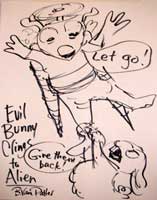 During the evening show, I did this quick sketch of a wacky headline we invented: Evil Bunny Clings to Alien!

In addition to all the free material on this site, I have downloadable books that are perfect for keeping kids writing in school or at home!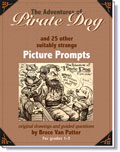 The Adventures of Pirate Dog
Picture prompts are a great way to inspire kids to write! Here are 26 of my best drawings with fun, pre-writing worksheets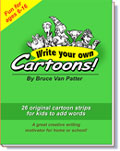 Write Your Own
Cartoons!
Kids can add the
dialogue and their special touches to my funny comic strips filled with wacky characters!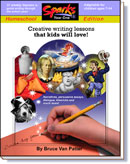 Sparks: Year One
Here's a fantastic resource for teachers: a whole year of weekly creative writing lessons built around wacky holidays!