The assembly stories
The four ingredients: an alien girl in an ice castle looking for a talking donut up against a peg-legged hockey player

The story: An alien girl who is visiting the earth loses her energy disk that powers her ship. It just happens to look like a donut. When a star player for a local hockey team, the Ice Pirates, finds the "donut," he realizes that with its power, he might just be able to win the championship game.

Do you think it's cheating to us an alien donut for a hockey puck? It doesn't bother him. He's a pirate!
---
The four ingredients: an ant on a hill looking for vacation up against a dragon

The story: I enjoyed drawing this because I made it look like the ant was sitting on a hill. Then I added the fire and said that he was on a volcano. Then I turned the "hills" into the dragon.

In the story, I decided that the ant went off for an adventure and climbed up the dragon thinking it was a mountain. Then he found a seed that had stuck in the corner of the dragon's eye and was bothering the beast. The dragon was so happy to have help, he let the ant have a cookout on his nose!
The workshop stories
This is one funny looking ogre over on the right. That drawing inspired us to think of an ogre who made a deal with strange little creatures. He swapped food with them for a magical talking ear! The ear would give him advice.

The story had to do with his quest to find the ear when it suddenly went missing. But I decided to show a scene from the beginning of the story, when he was exchanging food for the ear. Usually I draw the final scene, but I thought this early scene was a fun one to show.
---
There were two key ideas that came up in the brainstorming stage of this fun story. One was that our character was given a magic feather. The second idea was that he was afraid of the number thirteen.

So we imagined a story where an older teenage boy was getting magic feathers from a bird that helped him win the love of a girl.

But the last feather, the thirteenth feather, was unlucky. And it has changed the girl's heart toward him. Now he has to undo the magic by returning all the feathers to the bird. But it's not so easy to find the bird in the city park where he had first met it.

I'm glad I didn't have to draw all thirteen feathers!
---
Kids love dragon stories. That works for me because I love drawing dragons!

In this story, a princess is being trained as a dragon-slayer by her father, the king. But she doesn't want to kill dragons. She's actually learned how to befriend and calm them.

She learned it by raising a dragon secretly. A few years after she realeased the dragon, she is forced to battle it in a final competition to become the champion dragon slayer. But she doesn't kill her pet -- she cuts the chain and escapes with the creature.

This was fun to draw!
---
Want to motivate young writers in your life?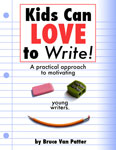 This book can help!
I've collected 39 of my weekly emails to teachers on creative writing into one downloadable book. Kids Can Love to Write captures the essence of my approach to making writing fun for kids. Whether you have an enthused young writer or one that needs big motivation, this book will show you how to get the most out of their imaginative minds.
Find other creative writing helps at my store!
---
New on my site!


I love random connections! Here's a page that will create random What If Questions to help you start stories!
---