Step One: make a shape

Any shape can work, but start with an oval, circle or pear shape. You want one that can be easily repeated. Draw the shape many times on one piece of paper.

Step Two: add features
This might include eyes, ears, nose, mouth and hair. The eyes and the mouth are the keys to emotion. Eyes can be simple dots or large black pupils in larger white ovals. Mouths can change the most of any feature. It's fun to play with combinations of those two features. Inside your repeated face-shapes, now draw different emotions. I'll show you what I mean:
Step Three: drawing a profile
Most kids I meet who have a cartoon character can only draw it from the front. To draw a profile, decide if your head-shape changes when viewed from the side. Maybe the oval slants backward, maybe not. Draw a sideways head-shape right next to the front view. Extend light lines across from all the features, so they appear in the same place on the face, like this: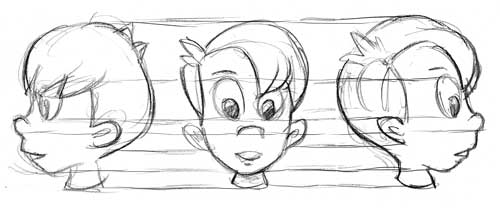 Now you have your face. Adding bodies is similar: find a simple shape that you can repeat. If you're drawing from the side, make sure the head, arms and legs are in the same relationship they had in your frontal version.


A range of emotion is good to practice. Try: mad, sad, happy, scared, sly, silly, sleepy. It helps to look in the mirror and act out the emotions. Watch how your face changes.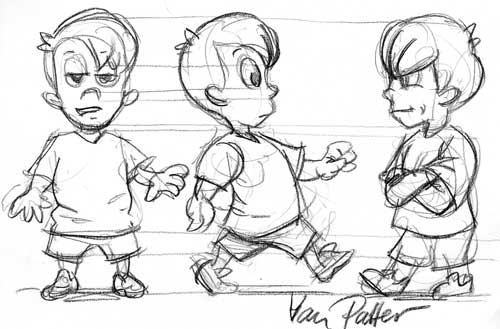 Okay, I know these drawings aren't so great. I really just sketched these fast to show you how it works. If I really wanted to get this kid to where I'd be happy with my drawing, I'd have to draw him over and over. Dozens of times. Doing all kinds of actions: running, falling, sitting, sleeping, grabbing. Anything that I think might happen as I put him into stories -- which is really what a comic strip or comic book is -- a story.