The Assembly Stories
The four ingredients: a tough guy in a castle in New York City who wants his sister up against a mean bearded guy

The story: Our tough guy hero (the student said "gangster," but I thought I'd tone that down a little) has to babysit his kid sister for a whole day in the city. Things get really strange when an old guy, who looks like he's down on his luck, says he's a photographer and offers to make her a star. Turns out he's really a wizard who lives in a castle and he's trying to make a formula to become young again. When the tough guy figures out what the old guy is up to, he has only his sister's rattle to stop the wizard!
---
The workshop tales
What is the guy in this doodle on the left holding? That's what we wondered in our brainstorming session. We decided it's a noodle, and he's a kid detective trying to find out what has been happening to all the noodles in his small town. They've been disappearing! And his girlfriend loves noodles!

After a long search, he finds that the owner of a soon-to-open restaurant has been taking all the noodles. Why? Well, I'm still a bit fuzzy on the reason. Some thought that he was going to use them to make the biggest bowl of noodles ever! Other's thought that he might be trying to destroy them so that everyone would have to eat noodles at only his restaurant. Still others thought that somehow, he was going to use them to conquer the town, like some kind of crazy, evil scientist!

That's what's great about imaginations: anything can happen!
---
This story started iwth a very strange doodle of a guy who looked to some of the kids like a goat. So we decided he was originally a goat who was transformed into a young man by a group of wizards who wanted a mascot.

The lad has been working on his magic so that he could track down his parents and change THEM from goats to humans. He set off through the mountains, searching for them. When he finds them, they have unfortunately fallen into the grip of an evil dragon, who intends to eat them for dinner.

The boy moves quickly, using his magic pebble on his parents. But the magic doesn't turn them into humans -- it makes them huge -- and ANGRY!

That's not a bad plan, come to think of it!
---
Here we have a young hippo who loves to make mud sculptures. But his dad sends him out every Saturday to work in different jobs. Every Saturday, however, our young hero gets fired for making mud sculptures instead.

So, this day, there is a contest to try to sell the most donuts. The boy wants to do his best to please his dad.

But another hippo, who wants to win and defeat our hero, brings a bucket of mud to the shop. The temptation is too strong and our hippo artist starts to make mud statues right on top of the donuts! That clears the shop pretty fast.

But the last customer is actually an art collector. When he sees the little scuptures, he LOVES them! Looks like the boy may win the contest after all.
What a day!

I had so much fun today! I hope you did, too, Centerville kids! Now, don't let the fun stop. Put your stories down on paper and share them with others. Your ideas are awesome! Thanks for having me at your school.

In addition to all the free material on this site, I have downloadable books that are perfect for keeping kids writing in school or at home!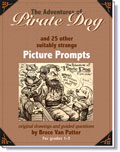 The Adventures of Pirate Dog
Picture prompts are a great way to inspire kids to write! Here are 26 of my best drawings with fun, pre-writing worksheets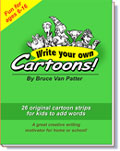 Write Your Own
Cartoons!
Kids can add the
dialogue and their special touches to my funny comic strips filled with wacky characters!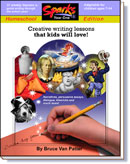 Sparks: Year One
Here's a fantastic resource for teachers: a whole year of weekly creative writing lessons built around wacky holidays!