This was a wonderful return to the Morristown area to work with some truly creative kids!
The assembly stories
The four ingredients: a dinosaur named Fred in a museum looking for a balloon up against a horse

The story: Fred is a dinosaur egg hunter. He tries to track down all the eggs that have been placed in museums. When he goes to a Natural History museum, he finds that eggs are all over the place! Actually, they're not eggs, but he thinks they are. They're just balloons.

So here, I drew Fred trying to get the last "egg." But it's being held by the guard horse. And I don't think he'll like Fred standing on top of a dinosaur skeleton!

Fred needs to use his head, not somebody else's head!
---
The four ingredients: a sleepwalking girl in a cemetery looking for the bathroom up against a zombie.

The story: first, I need to say that my story team gave me two ingredients that I don't draw in schools -- a cemetery and a zombie. So I worked it out like this.

Beatrice, our main character, is sleepwalking, off to find the bathroom. She hears a strange sound, a kind of pounding. It makes her think of her dad, who has been working on the bathroom for over a year. (Sounds like me!)

The sounds take her into the back yard where somehow the horror of what is going on wakes her up. Oh no! Her dad is hammering her video games into the ground to bury them! Why? Because the noise of them keeps breaking his concentration when he's trying to fix the bathroom. And the worry about the bathroom keeps him up at night.
---
Workshop fun!
Check out these stories which all came from our 40-minute workshops:
When a boy realizes he has magic power, he tries not to let others know about it. He doesn't want to be a wizard! He wants to be a baker. But the town needs him.

Then he hears about a mythical creature who lives on an invisible island in the lake near his house.

Then the creature, the dreaded Four-eyed Frogre (part frog, part ogre) kidnaps his dog. To get his dog back, the boy takes a cake with him that holds a sleeping spell.

How does that help him disguise his magical power? I'm not sure, but if the magic worked, maybe he has a future as a magical baker!
In another strange story -- strange but fun, that is -- we thought about a girl who has started a business selling ice cream from a bicycle cooler. Her uncle gave her the money to get going, but now that she's doing it every weekend, she realizes that she doesn't want to keep selling ice cream.

Another problem is that she doesn't want her friends to know that she does this silly job.

Then we thought of a great situation to put her into. One Saturday, as she rides around the park, she realizes that if she sells all her ice cream, so would be able to leave it all behind. But her uncle keeps filling her cooler. What is worse is that her friends are are having a picnic there! So she has to try to avoid them and her uncle, while she sells to the kids that keep chasing her around to get ice cream!

I thought it was hard enough on her to have to wear a silly hat!
Want to motivate young writers in your life?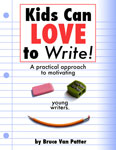 This book can help!
I've collected 39 of my weekly emails to teachers on creative writing into one downloadable book. Kids Can Love to Write captures the essence of my approach to making writing fun for kids. Whether you have an enthused young writer or one that needs big motivation, this book will show you how to get the most out of their imaginative minds.
Find other creative writing helps at my store!
---
New on my site!


I love random connections! Here's a page that will create random What If Questions to help you start stories!