This was my last school of the year! I started in Bloomer, WI, and ended at Bloomsburg, PA. And in between, I found kids' imaginations blooming all over the map!
The assembly drawings
Check out these stories:
The four ingredients: a horse at a castle looking for a fire-breathing dragon up against a flying pig

The story: A village near a strange castle keeps being raided by some kind of night-time creature. So they send out a brave knight to find and defeat the creature.

When he gets to the castle, he finds a dragon who is actually very nice. So he decides to ride the dragon down to the village to show everyone that they have nothing to fear from this creature.

But what he didn't know was that the real Creature of the Castle is a mean, flying pig! And the pig has no intention of letting his pet dragon fly away!
---
The four ingredients: a superhero girl in a volcano looking to eat a witch up against an evil clown

The story: Actually, the first student wanted a superhero NUN! So when I drew this, I had to take some "artistic license." So I have a clown chef who is trying to burn off the taste-buds of everyone with fiery sandwiches made with Volcanic Peppers! (Sounds like a rock band.) But Chili Girl, who can eat anything, no matter how spicy, is going to gobble up the sandwich (sand-witch? Get it?)

And just to round things off, I had him say, "None can defeat me." See... I did get the nun in there. Kind of.
This was a fun school -- from the two assemblies all the way down to the small-scale kindergarten stories I made up with the help of some creative youngsters. I hope my drawings will continue to inspire creative stories beyond just this year.

Remember, kids: you have stories to tell. This summer would be a great time to put them down on paper.

Thanks for sharing your ideas with me!

In addition to all the free material on this site, I have downloadable books that are perfect for keeping kids writing in school or at home!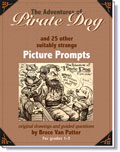 The Adventures of Pirate Dog
Picture prompts are a great way to inspire kids to write! Here are 26 of my best drawings with fun, pre-writing worksheets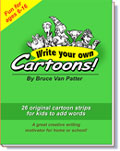 Write Your Own
Cartoons!
Kids can add the
dialogue and their special touches to my funny comic strips filled with wacky characters!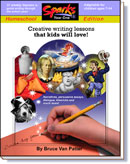 Sparks: Year One
Here's a fantastic resource for teachers: a whole year of weekly creative writing lessons built around wacky holidays!