My visit to Central School
This was a long, fast-paced, creative day! Just look at these stories...
The assembly drawings

The four ingredients: a camel in a grocery store looking for food up against a mutant coyote

The story: I have to tell you how much I enjoyed the kindergarten boy who gave me the main character. Conner was really confident. He not only gave me a camel, but decided the camel needed to wear armor!

So I decided the camel should be a chef who is preparing a holiday meal, but ran out of canned pineapple. But he knows the coyote who works in the store is really mean and won't let him shop there. (I decided not to do the mutant thing, unless you count standing upright and wearing clothes as a mutant thing to do.) So Sir Camel decides to make a gallant charge to get his can.

After I finished the drawing, later in the day, I wished I had made the title read: "Who ought to save the day? Sir Camel Ought!" Ah, for quicker wit.

---

The four ingredients: a guy with 50's hair in a museum who wants hair gel up against a lava monster.

The story: I decided to make the museum Edison's lab -- my favorite museum. Our hero decides to go into the lab when it's empty and use Edison's journal to try to make his hair glow in the dark. But when he heats up the formula he's made, he doesn't get hair gel. He gets a lava monster!

This was a headline I waited to write. I'm glad I did. This one is a fun headline, and it fits nicely in the narrow space I left.
This interesting story is about a girl counselor in a summer camp. But she's not an ordinary counselor. For one, she doesn't like kids. For another thing, she's actually a bear, transformed into a human by using the ancient bear fossil she's been forbidden by the Bear Council to use.

She disobeyed because her brother, a young bear cub, has been taken hostage by a boy camper. The boy found the cub and has been using to feel better about how lonely he feels at the camp.

When the bear/girl shows up, he takes the fossil to make her change back into the bear and get scared away by the camp staff. Oh no... trouble is bruin!
---
In this tale, a baker has been trying to avoid getting married. He's not very good at making a commitment. He loves his life of travel. Wherever he goes, he brings back ingredients AND ancient treasures. One such treasure is a ring he stole from a Chinese museum that he's going to use to propose.

He bakes the ring in a cake! But right when he is about to give it to his girlfriend, a Chinese woman shows up to claim her slice of the cake!
---
Here is probably my favorite drawing from the day. This giant, who lives with his people up in the mountains, found a secret canyon where a deep lake turned him into a human! He went to a human village, and met a girl he befriended.

But after he transformed back into a giant, he found that the girl came up to the giant's land to find him. She's in great danger. The giants expect him to destroy her, so he takes her to the cliff edge. Everyone is surprised when he throws himself and the girl off the cliff! That's because he knows the water will turn him human again.
---

In addition to all the free material on this site, I have downloadable books that are perfect for keeping kids writing in school or at home!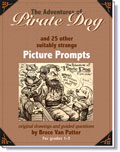 The Adventures of Pirate Dog
Picture prompts are a great way to inspire kids to write! Here are 26 of my best drawings with fun, pre-writing worksheets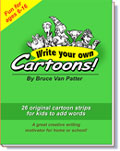 Write Your Own
Cartoons!
Kids can add the
dialogue and their special touches to my funny comic strips filled with wacky characters!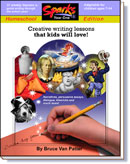 Sparks: Year One
Here's a fantastic resource for teachers: a whole year of weekly creative writing lessons built around wacky holidays!