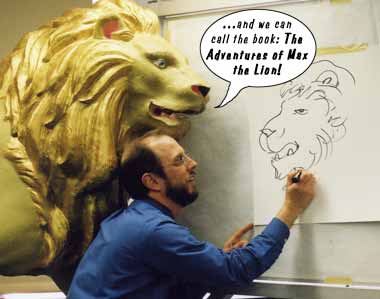 When stories start flowing, everyone wants to get into the act. (And I'm not lion!) That's certainly true about the wonderful students at Centre Hall Elementary School. What a treat it was to be there for two...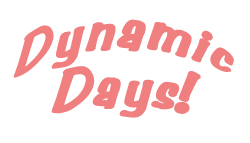 Here's my "imagination team" from the first assembly, giving me the ingredients for this great, funny story with a strange-looking sea-horse!

| | |
| --- | --- |
| | The second assembly's story came together when a girl put the setting in Einstein's kitchen -- the most creative setting I've ever had! Bravo! |

Picture the Fun!

Thanks to Mrs. Laura Darr, the best helper a visiting illustrator/author could ask for, we have some great photos of the two days. The Wheel was spinning, artists were drawing, kids were imagining, and stories were taking shape.



It's kids like these and schools like this one that make me eager to leave the house at dawn and pass buggies on Route 192. If the kids had fun, I had it double.

And kids, remember that you are creative! But to stay that way, you've got to use your ideas. Get them down on paper and share them with friends. Don't let the fun ever stop!
Here's what teachers at Centre Hall wrote about my time at their school:

About the asssembly:
"I loved the assembly and the website!...Not only did Mr. Van Patter inspire creativity, but he provided instructional tools to take directly back to the classroom. We used the "imagination team"...for cooperative team writing and illustrating."
About the workshop:
"Very motivating and interesting for the students. They came away from your workshop excited about trying some of the story ideas -- and feeling good about trying new ideas... Thanks for making us smile."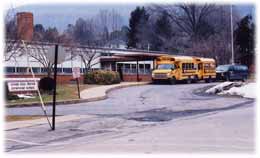 | | |
| --- | --- |
| I love pulling up to a school in the morning wondering where these kids will take me with their amazing imaginations! | |
| | |
| Workshops: Going Where There Is No Path and Leaving A Trail | |
| We were very busy over the two days creating stories. Some workshops even got two drawings! Let's take a stroll through some of the sparkling ideas. | |
| | |
| This cat sets out to find his lost mother and has to deal with a sneaky snake! | |
| | |
| No matter what romantic thing this guy tries to win the heart of the principal's daughter, he ends up just making things worse! | |
| | |
| | |
| A young turtle is on his way to his grandmother's house for his birthday party when he chances upon a wizard beaver. The beaver has magical water in a treehouse well! Cool idea! | |
| | |
| The only thing standing in the way of aliens stealing Earth's supply of ice cream is a brave bunnyduck! | |
| | |
| When an evil dude puts together a "knock-off" band of the greats of blues and rock, he steals the old guys' instruments to make the band look authentic. He hadn't counted on a hip spy who rounds up the real music greats (all retired to nursing homes) to create a real "show stopper." Like wow, daddyo! | |
| | |
| It's the ole' cat-and-mouse game, only both are geniuses, laying traps for each other. See what happens next in the picture on the left! | |
| | |
| And that wasn't all! There were other stories and drawings. One of my favorites I even forgot to get a picture of (though you can see me drawing it in a picture on the left). In it, a giraffe has an adventure with a mummy at the Pyramids! Another great setting! | |
| | | |
| --- | --- | --- |
| | | Start with a whole page of drawings I've done in schools and create stories to go with them! Then you can see the original stories that caused the drawings! Click on the logo. |
Create your own character using one of eight funny, interesting faces on my page of MUGSHOTS. Click through to a question sheet that will help you make a face into your own hero... or villain.