Now I can see what I look like towering over kids sitting on the floor. I tried something new at this wonderful school -- I handed the camera to a student in the front row in two of my workshops. I love the results! Yes, I may be tall, but the really big news coming out of this day was this: Yes, you Clermont kids are creative! (I knew you were!)
Creative minds at work!

| | | |
| --- | --- | --- |
| | | All day long, I was working with kids just brimming with ideas. Whether it was in a workshop (above) or with teams of doodlers (on the left and below), or kids at Clermont were ready to create. |

This story, from the first assembly, combined a crab with a jet pack with a game show, a tub of gold, and an eagle villain. I didn't make a whole lot of sense out of the story, but it was fun drawing that wacky, inventor crab.
And in the second assembly, everything was starting out to make a normal story. I was given a bear in the woods looking for honey. I counted on a boy named Joseph to make it strange. And he did! He added in a hyena! Good thing I had my trusty "animal drawing" book. So here, I've pictured a bear on vacation in Africa, going for some honey. The hyena is actually helping him out by warning him. African bees can be really nasty!
| | | |
| --- | --- | --- |
| | | |
| | | Simple squiggles can make great characters if you know what questions to ask. It's so much fun seeing little lines become interesting heroes. |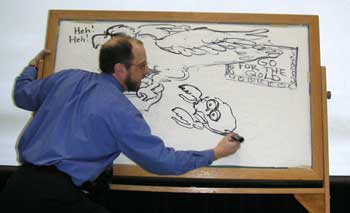 I know that kids think my drawing is fast and amazing. Thanks for all the nice things you all said to me during the day. But I think what's really amazing is how you all come up with ideas. Like the whole class that went back and had 'creativity time' for a whole hour! On the right you can see a couple of their drawings. All were great!

You are creative, kids! Keep putting your thoughts and stories onto paper and share them with others!
And check out the fun on my site! Try fun stuff!
Big Ideas!
They didn't all have giants, but these stories were huge fun to make: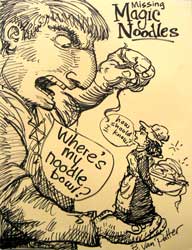 The Missing Magic Noodles. Here we have an interesting concept: a giant eats magic noodles to keep himself big. The noodles helped him grow from normal size to extra-extra large. His wife, who usually bosses him around, is hiding the noodles on him to bring him down to normal size.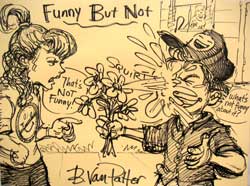 Students in this workshop weren't all that excited that the Wheel spun a love story. But they worked with it, coming up with a silly guy who is trying to make this girl laugh. Problem is, she's under a no-laughing spell! Hey kids, do you like the t-shirt I gave her? A student named this Funny But Not.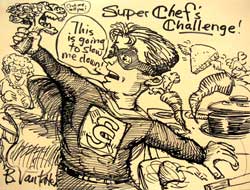 Who ever heard of a super-hero chef? Nobody? Well, that's why I love this story. He has a super-fast food restaurant, since he can cook so fast. But the lady that runs the other "fastest restaurant in town" turns out to be some kind of wizard lady, and she's put a spell on the veggies. Hey kids, do you like my flying cheese?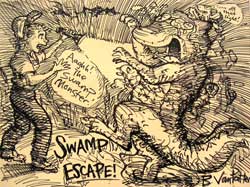 In Swamp Escape, our hero is just an alligator who wants to escape his swamp. Try as he will, he can't get by the park ranger. Finally, when he's going to give up, he gets all kinds of things caught on himself: sticker bushes, lilly pads over his eyes, dripping algae. He now looks just like the legendary Swamp Monster! Maybe he'll get past that ranger after all! Hey kids, do you like the frog I added?
Another piece of art from the day is this way cool dragon. It seems like some kind of space story. I wonder if this is how Draco the Dragon got started.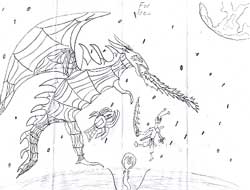 This girl below is reminding us all that the first step to being a creative person is: to notice things! (Nice job, artist!)