Let me tell you about my day...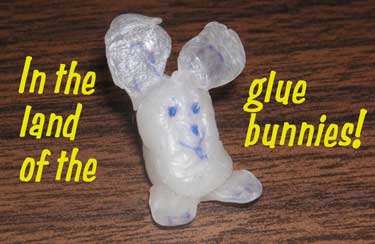 Okay, I know that is a strange image to use to describe a whole school. But a student brought this to me to show me how she uses her imagination, and I thought it was a good picture of what my day here was all about. It was about coming up with ideas and with characters and with stories. It was about trying new things. Let me show you some of what we did.
Creative minds at work!

| | | |
| --- | --- | --- |
| | | Here's my imagination team right before they came up with their ideas for our story. |

Here I am drawing my fast version of the story about a pirate in a jungle searching for the fabled Dragon's Lamp. This is a good way for you to see the simple drawing that's done in front of the audience, then how much more I add to it after school.

I was impressed by how eager the kids at Columbus were to make up stories. Ideas seemed ready to spring out! I loved the energy we had in all our sessions, and how willing everyone was to go wherever the story took us.
| | | |
| --- | --- | --- |
| | | The Wheel of Fiction chose great directions for us. Thanks to all my "spinners". |
What a great day we had! It put a smile on my face, and hopefully it put ideas in the minds of Columbus students!

Keep using your imagination, kids! It's a wonderful gift.
Remember... you have great ideas. Share them!
Amazing Stories!
Check out these stories: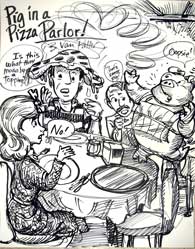 Pig in a Pizza Parlor! I predicted the Wheel would give us "love" as our story theme, and I was right! That moment when all the kids shouted in reaction to the Wheel was one of my favorite parts of the day. This story has a scientist girl bringing her trained pig to a pizza restaurant to impress a boy. But things aren't exactly working out!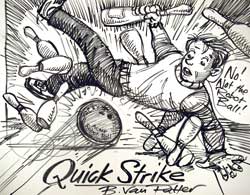 In Quick Strike, we have a secret agent on a quest for secret information. But here's the part I loved about this story: the quest takes place inside a bowling alley! Each lane gave our hero another problem. In this picture, he's up against a robot ball that will follow after him! I hope it will "spare" his life!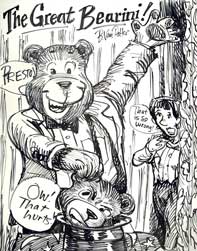 Here's another wonderful idea: a bear magician! In The Great Bearini, our hero bear heads off to New York City to make it big. But his brother wants him to come home, so he's trying to mess up his act. I didn't mean to make it look like the brother's head is off his body. I meant to show it being squeezed throug the hat. But either way, it's a fun tale.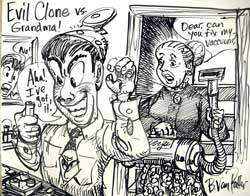 Here's another scientist, but this one is evil. He's invented batteries that when they're put in backwards, they make the appliance do the opposite of what it's supposed to do. The lady in the back is his grandmother, and the guy at the window is the nice scientist brother whose lab this evil guy has taken over. It's in the grandmother's basement.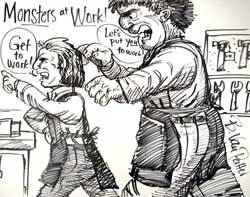 Which is the monster? Well, we came up with a main character who is a nasty boss in a hardware store. He's only the boss on Saturdays, but his temper drives the other workers crazy. So they bring in a guy who gets transformed by the boss's anger. The madder the boss gets, the more of a monster the worker becomes. Cool idea!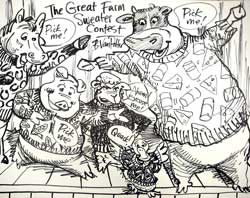 In The Great Farm Sweater Contest, a sheep is a sweater model. That alone is such a great idea! The other farm animals are tired of her boasting, so they take her on in a sweater-wearing contest. It was fun putting on the different sweater patterns.
| | | |
| --- | --- | --- |
| | | Here's one last example of a Columbus imagination. An eraser can become a calculator! It's so much fun to transform things! |