| | |
| --- | --- |
| | Whenever I pull up to a school, I wonder what ideas I'll find inside. Dillsburg Elementary, it turns out, is filled with kids with... |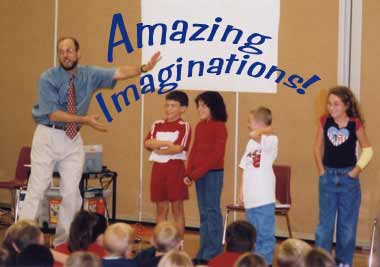 We started off with two great assemblies, with wacky stories, of course. One had the evil Dr. Doodle trying to cover the houses of the world with doodles. He had to take over Santa's sleigh to do it. Thank goodness that Super Shark was there to stop him! The second assembly came up with a polar bear trying to take all the sunscreen on a beach to force people to go to his arctic resort! Wow! What combinations!
Two Dashing Doodles
Let me show you just two of the doodles that were done this day (the others were wonderful, too!) to let you see how a simple shape can bring out two really different drawings! I think I'll call them Mr. and Mrs. Appleschnitzel.
The afternoon was filled with workshops. I tried out some new choices for The Wheel of Fiction -- chase, rescue, escape and quest. Three times in a row, we spun rescue! The stories that came out were fascinating. We had a little harder time with a "chase" story, so I may have to rethink my new choices. But I'm trying new things!
Remember, kids, that trying new things is FUN! I know it can be scary sometimes, but taking chances is how you find new ideas. And the thrill of coming up with an idea that is really yours is worth the risk you have to take.
And one last thing... don't forget that Ms. Reed is starting a Writing Club! What a great way to keep your ideas flowing! I hope many of you get involved.
Here's what teachers at Dillsburg wrote about my time at their school:

Aboout the assembly
"I completely enjoyed your assembly today. You told our students the exact type of things they needed to hear in order to build up confidence in their ability to be creative. "
Aboout the workshop
"Excellent workshop!..Great message! Very well prepared and presented."
Read reviews from other schools.
We tried to get lots of kids in the pictures we took during the day. So you won't see any close-ups of the illustrations. I think it's nice to see the smiling faces of the kids who helped create the wacky tales.
Here are some fun pictures from the workshops...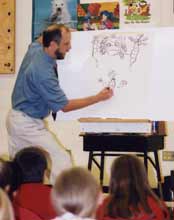 This was our "chase" story: a monkey builds a giant monkey out of trees and bushes to scare off the poachers.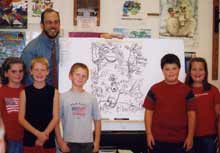 And in the story below, a sliding penguin goes off his iceberg to save his kangaroo friend, Tubby.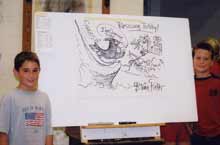 And thanks to Kitty for this wonderful drawing. Don't you think this kitty would make a great main character?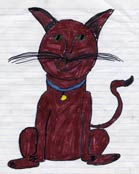 A very special thanks go to Jeanie Bouchet and Bev James, two excellent assembly coordinators. They really set the stage for a successful day! When a day goes this well in a school, a person must working very hard behind the scenes. At Dillsburg, there were two! (AND a great maintenance man!)