This was a fun school full of kids brimming with ideas for stories. Check out the tales we came up with!
The assembly stories
The four ingredients: a surfer duck on a mountain looking for a shark up against a bear

The story: A surfing duck loves to catch the waves, while his pal, a shark follows under the water. But one giant wave catches the shark and plops him down high on a mountain by the ocean. The surfer duck goes up to help him.

What can he do? First he makes the shark stay in a stream to keep wet. Then he comes up with a plan. An angry bear lives on the mountain and hates visitors. So the duck annoys him, as only ducks know how to do -- QUACK, QUACK! The bear gets so angry, he picks up a rock to throws at them.

But that rock was keeping back all the water from a mountain pond! It comes rushing out and the duck surfs all the way to the sea with the shark as his surfboard!
---
The four ingredients: an untrained spy kid in an airplane looking for a flying ice cream cone with a cat for a silly sidekick

The story: A boy has an inventor father. But the boy doesn't want to grow up to be an inventor. He wants to be a spy. So one day when the father is away, the boy sneaks in through a window and spies on his dad's projects. One of them is a flying ice-cream cone! When the boy takes the top off the glass cage, the cone flies out of the window!

So he climbs into the family airplane to try to catch it. The cat takes the controls so the boy can concentrate on catching the cone. But the cat, it seems, is not such a great pilot. I guess that's what makes him a SILLY sidekick.

I had to laugh at what I did to start this drawing. I turned a BLANK piece of paper upside down to sketch on it! Brilliant. What was the point of that?
---
Workshop fun!
Check out these stories which all came from our 40-minute workshops:
This is the first story I've ever done in a schoolo that involved parkour, the french street-gymnastics. In this story, a boy is tracking a secret society of hooded monks. Well, they're not actually monks, but mysterious men who seem to know some amazing secrets to parkour.

The boy is determined to learn the secrets of the mysterious men, so he tracks them down into an abandoned subway station, where there is a temple. In the temple is an ancient book of parkour secrets. He wants to read that book!

But first he has to get past the big guard! Good thing the kid has moves!
Dragons! They show up in so many school stories! in this one, a boy goes to rescue his mom from a castle tower. Everyone thinks he's a brave and skilled knight. Actually, he just happens to have the most amazing pet -- a hedgehog who can defeat dragons!

So he cliimbs the tower to face down the dragon and free his mom. But there's one problem: his pet, Harry the Hedgehog, is afraid of heights! I guess the little guy figures out how to overcome his fear, since you can see him in the upper right corner of the drawing.

I reminded the kids that every character in a story needs to have strengths and weaknesses, even hedgehog sidekicks!
A day isn't complete without an alien story. In this one, a girl, trying to do a project for a science class she sleeps through every Saturday, creates a cell phone that can hear the secrets of aliens! As you can imagine, the aliens want to get that phone.

One of them, who looks like a woman in high-heeled shoes (we started refering to her as HHW), lures the girl into dark city streets. But the girl had one more cell phone trick up her sleeve to fend off the aliens!
East York kids, you can see that you have active imaginations. I left behind the drawings to inspire you to keep going. Whenever you see them, remember that they came from YOUR ideas.

Just remember that even though writing can be hard work, the finished story is something that others can enjoy as much as you do. Don't forget to share your stories with your friends and family.

Keep up the good work!
And while you're here, check out the fun stuff on my site!

In addition to all the free material on this site, I have downloadable books that are perfect for keeping kids writing in school or at home!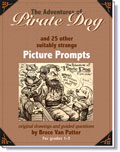 The Adventures of Pirate Dog
Picture prompts are a great way to inspire kids to write! Here are 26 of my best drawings with fun, pre-writing worksheets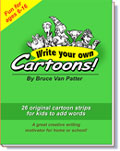 Write Your Own
Cartoons!
Kids can add the
dialogue and their special touches to my funny comic strips filled with wacky characters!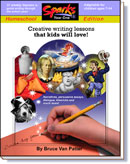 Sparks: Year One
Here's a fantastic resource for teachers: a whole year of weekly creative writing lessons built around wacky holidays!