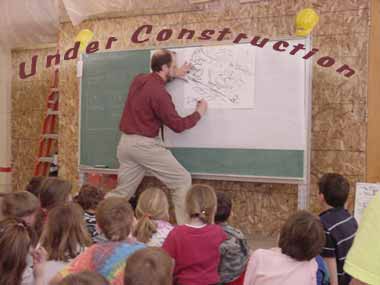 Kids are a work-in-progress. Frankly, everyone is a ongoing project, no matter how old one is. I thought it was fitting to be in this wonderful school -- a school undergoing a major overhaul. All around were reminders that something new and exciting was on the way!
And that's what creativity is like. New ideas are always "under construction" in our minds. Exciting stories are always on the way if we take the time to think them through and put them down.
Here are some of the stories we assembled:
In the two assemblies, my imagination teams came up with really interesting combinations. In the one above, the older kids gave me the parts which led to an angry elf trying to destroy a pigeon's broccoli forest on a city building's rooftop. In the one below, a girl detective is trying to find her stolen lollipop. Can you figure out which stuffed animal is actually a real one? (I guess he's found himself in a sticky situation!)
Afterward, I was given a whole stack of stories young students had written and illustrated about what happened in The Great Lollipop Search after the picture I drew. They were wonderful. I loved the running rabbit in this one!

That wasn't the only time I was amazed by the creative talent of these Evans kids. Check out these:

Here are four ideas that came from the same doodle. Isn't it interesting how the same shape can bring out so many ideas? Can you see the shape in each?

Kids, remember that just like your school, your stories can be built piece by piece. Don't worry about how your story looks while you're building it -- just get your ideas down and keep working on them. And just as someday soon you'll have a fantastic school building, you'll have great stories, too!
Here's what teachers at W.W. Evans wrote about my time at their school:

about the assembly:
"The assemblies you presented were excellent!!! ...my children wanted to write and draw in their journals as soon as they got back to the classroom. Thank you!"

"...very child oriented... I would recommend this assembly to all schools."

about the workshop:
"The class session was VERY enjoyable, entertaining and educational! Mr. Van Patter showed both students and staff the fun you can have when writing and illustrating stories!... Bravo!"

"Awesome!... Writing can be fun!"
Look what we built!

Unlike a builder's plan, when we put together a story, there's no telling what we'll end up with. In the story above, a pig loves to swim, but the farmer wants him out of the pond. When an alien starts kidnapping the farm animals, the pig uses his water skills to stop him!

In this wonderful tale, a chef enters a pizza-baking contest. But his old pizza professor is out to win, too, and will stop at nothing, including putting on his rival's pizza a Scotch Bonnet pepper -- one of the hottest peppers known to man!
Ever wonder what chickens think when they get their eggs snatched every morning? Well, one doesn't like it and sets out to get it back. After a wild ride, she steals back her egg, but it rolls away from her and the chase begins!
More student examples:
Here is an artist in the making! This girl showed me the most astounding collection of drawings. How I wish you could see the detail in this map of a town made of carrots! I'm still grinning from thinking about it. She is someone who is really using her imagination!

And finally, here's another drawing that delighted me. A young man gave me this, called The Jokester, which would be a good nickname for me, don't you think, kids?