The best kind of stories are the ones that you can't predict. They go places you weren't expecting.

That's what we did today. The kids at Falling Spring were ready and excited to make up stories. And all of our tales were surprising.

Read on -- I'll tell you about them!
The assembly stories:
---
Sometimes, I get parts to a story and I just can't quite make them fit together. This first one, from the K-2 assembly, was one of them. It had a cobra inside, near water, trying to get a t-shirt from a rhino. I can't say I love the drawing, but that's okay. It's good for kids to know that the important thing isn't always what you end up with. It's just as important to try something new -- even if it doesn't turn out the way you want.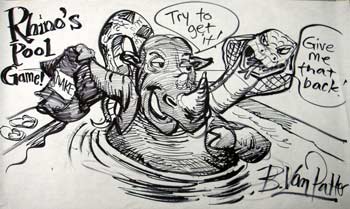 The second assembly ended up with a story about a superhero who is trying to save the world from an evil plot. Toys are being trained to take over the world. So he's gone to a toy store to get rid of the toys. His side-kick, Tiger Boy, thinks he's become a mean superhero, and he's trying to stop him! I put the title on after school, that's why I could take the time to do the fancy lettering.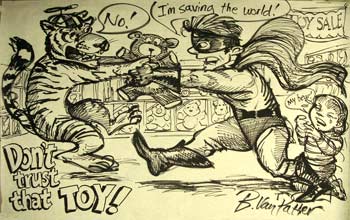 Here are three of my fabulous doodlers! They're hard at work coming up with drawings from the same starting shape.
---
Character doodles

Each workshop starts off with a doodle which is turned into a character by kids. These are two of the doodles we used. Can you guess which stories they go with? Check the column on the right.
Remember, Falling Spring students -- you are creative! Your ideas are just waiting to come out!
Share them!
Fantastic Tales!
These are some of my very favorite drawings I've done in a school this year!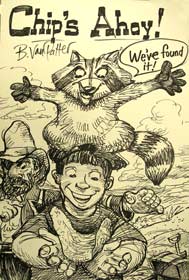 After lunch, I guess food was still on our minds, because in this story a boy and a raccoon set out in the desert to find a fabled huge potato chip. What I loved about the brainstorming in this session was that at first, we thought about why this boy had a raccoon on his head. Then one student asked the question in a different way: why does this raccoon have a boy under him? That was great "outside the box" thinking!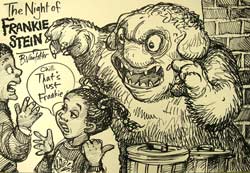 Here, we have a story about a boy who can turn himself into a monster. He does this because he wants people to respect him more. The interesting thing is that the Wheel of Fiction (seen in the photo at top on the left) gave us a bad guy monster, too! So we made the bad guy his little sister, who he thinks of as a monster!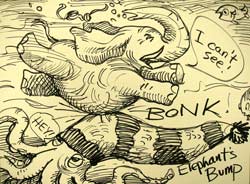 With first grade and kindergarten together, I tried something new. After we chose an elephant as a main character, I had a student pull a library book off a shelf without looking. It was about the deep sea. So we made that the setting and brought into the story this giant squid. The kids thought the way I drew his head looked like a sock, so I made it his sleeping cap. Here, the diving elephant wakes up the squid, then he tries to put him back to sleep with a lullaby.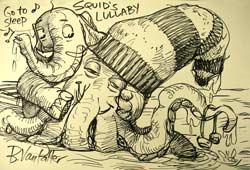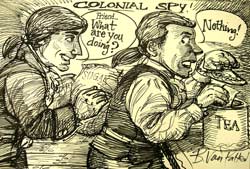 We rarely have historical stories in my sessions, but here is one. It's about a spy during colonial times. He's actually an American spy in England! What he doesn't know is that his best friend is spying on him for the king!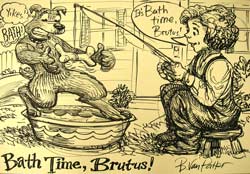 Finally, this story is about a dog who loves his doggie treats. But he hates his baths. So his master uses the treat to trick him into the pool outside. I liked drawing the chest-waders on the lady -- I have a pair just like them! I guess she expects to get pretty wet washing the dog!
Thanks to everyone
for such a great day!