You know what I love about working with kids? I just can't get enough of...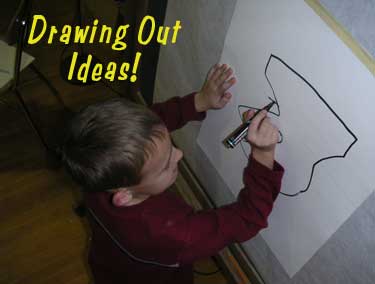 Kids are fountains of ideas. And unlike this picture, I never look down on a good idea. After spending a day at Ferrell, I'm convinced it's a place where ideas flow!
Creative minds at work!

This was my first group of creative kids. Some of them did doodles for me. The others gave me the ideas that went into this story. In Who's the Fastest, a dinosaur is in a training school. The last test is a running race, and the prize is the fastest pair of sneakers ever made. Who will win? Well, the bunny has made trap and the dino's about to fall into it. But wait! Who's that old bunny warning the dino? It's the bunny's grandmother who doesn't want him to win and get even faster -- he's too reckless as it is!

| | | |
| --- | --- | --- |
| | | And here's my gang of older creative kids. In their story, aliens come to earth for their honeymoon, but crash into a volcano instead. A scientist -- who looks like a chicken -- is recording them to prove that aliens exist. They just want to get away! |

Just to let you see the kind of creative doodling Ferrell kids can do, here are two examples:

| | | |
| --- | --- | --- |
| | | It shows that one group of kids can come up with an amazing range of ideas. No two are ever exactly alike! |
| | | |
You spin it, I draw it.
What a great day I had. I hope all you Ferrell kids and teachers did too. I hope you all got a taste of how much fun writing and making stories can be. Keep those ideas flowing. And feel free to check out the fun I have on my site. A good place to start is funstuff.
Remember... you have great ideas. Share them!
Amazing Stories!
Check out these stories: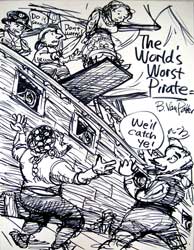 The World's Worst Pirate! When a young pirate wants his mother's magic pirate charm, he has to prove he's good enough. Here's the problem, he's not a very good pirate -- he's too nice! Here you can see him making someone walk the plank, but he's got people below to catch her.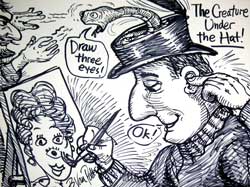 There are strange ideas in this one, but I love it. This guy has a snake under his hat -- which is opened by a button he pushes in his ear -- and the snake gives him painting advice! I've pictured here what happens when the wizard who used to own the snake puts a spell on him so that this artist will lose a painting contest. We named it The Creature Under the Hat. Good name.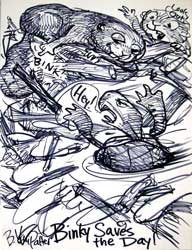 This story is fun. Get this, a lazy beaver has to get rid of the ponds huge, nasty snapping turtle. So he lures him to the dam. Then right as he's about to become snapped up, the beaver touches the one key stick in the dam. Whoosh! Away goes the water and the turtle. Since the sound of his touch was so important, I named him Binky.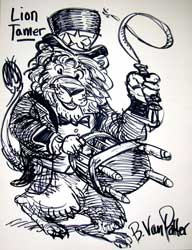 With the kindergartners, a lion goes on vacation to the circus, where he becomes a lion tamer. The other lions don't like his whip and chair, so he makes a deal: he'll pretend he has an invisible whip if they'll do cool tricks! The audience loves it! And I loved the story! Good job you guys!
And a special thanks to all the kids who brought me pictures. I was swamped by them, and they were all wonderful. This one below has such lovely lines and details. Superb!