Today, I worked with just the 3rd and 4th grade. They were a crowd of creative kids!
The assembly drawing

The four ingredients: a girl dentist in an elevator looking for a way to become to a vet up against a fat banker

The story: A girl gets trapped in an elevator with a rich banker and his ferocious guard dog, "Kachink." The banker is suspicious of everybody. He thinks everyone will pester him for money. That's why he brings his dog everywhere he goes.

But the girl is just interested in working on the teeth of animals. Here's her chance!

I think this is a wonderful random combination of ideas. I especially like the confining setting of an elevator -- the first time that has ever come up in an assembly. Very cool.
The Workshop Stories
An alligator wants to be a detective. But that's hard to do in a swamp. Then one day, his friend -- a dog -- disappears. And the gator has his first case!

It turns out that the dog has been kidnapped by an old guy who wants to use the dog to track down the location of buried treasure. The dog used to belong to an old prospector who lived in a shack in the heart of the swamp. When the prospector died, the dog was befriended by the gator. The thief now hopes the hound will lead him into the abandoned shack to find the gold.

Our gator hero hopes to scare the old guy off the porch and out of the swamp!
---
Here's a funny doodle of a teenage boy who likes to show off his trained snakes. He's hoping to impress a girl he likes by showing off his special talent at her little sister's birthday party.

One small detail he forgot to tell her: his act involves snakes -- the very thing she fears the most.

It's a good thing that this snake is long enough to save both the girl and the cake from the pool. You don't think that's stretching things too far, do you?
---
I really enjoyed my time creating stories with you Gill St. Bernard's students. You have a lot of energy and ideas.

Keep up the good work. Use your ideas -- put them onto paper and share them with others. That's the best way to make sure your imaginations keep flowing!
Remember... you have great ideas. Share them!

In addition to all the free material on this site, I have downloadable books that are perfect for keeping kids writing in school or at home!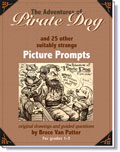 The Adventures of Pirate Dog
Picture prompts are a great way to inspire kids to write! Here are 26 of my best drawings with fun, pre-writing worksheets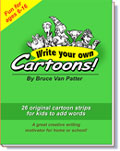 Write Your Own
Cartoons!
Kids can add the
dialogue and their special touches to my funny comic strips filled with wacky characters!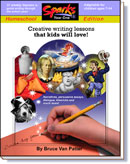 Sparks: Year One
Here's a fantastic resource for teachers: a whole year of weekly creative writing lessons built around wacky holidays!