It was my big moment on stage. And let me tell you, Hans Herr students, what made me happy was that it gave me a chance to put...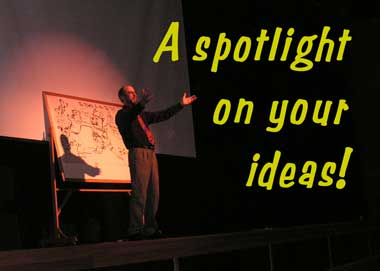 I loved this beautiful, new auditorium, fresh from a high school performance the night before. And up on the big stage, I had a chance to put some wonderful kid-ideas onto paper. Read on... I'll tell you more!
A feast of stories!
Check out these stories, all from the two days I spent at Hans Herr.
As with all the random stories that get put together on the fly in an assembly, this one is strange. A genius kid is trying to get back a tu-tu from a viking dog store owner in a mall. I told you it was strange! Well, it made for a funny drawing, at least.
| | | |
| --- | --- | --- |
| | | This boy detective is trying to find his missing dad in an old warehouse. He doesn't know his understudy for the school play is trying to videotape his poor detective skills. |
| | | |
| --- | --- | --- |
| In this story, a boy has to find his way back to an elf's cave hidden in beach dunes. All he has is a photo to guide him. See all the doors? The only difference between them is the shape of the lock. But that part of his photo has been ripped off. I loved drawing the rain in this! | | |
| | | |
| --- | --- | --- |
| | | A baker has been having his pies dissapear on him. He seems to have found one, but this magical thief of a woman doesn't want him to know this is his pie! I had a librarian find me a picture of the cast-iron stove. |
In Snouter's Dilemma, we had the deepest story of the day. Who would have thought it would come from a long-nosed pig? In this story, Snouter makes a new friend, but the pig wants him to help him steal something.

What makes the story really intriguing is that the treasure is under the floorboards of a scary guy's apartment. The Wheel of Fiction had given us a "monster" to put in the story, so I think many kids had expected this guy to be that monster. But I pointed out to the kids that the real monster is anybody who calls himself a friend and asks you to do something you know is wrong.
| | | |
| --- | --- | --- |
| | | How is a young man going to win back the love of his biologist girlfriend when he scares off all the animals she's studying? Well, we thought if he could teach an orphaned monkey (awwww) how to swing through the trees. |
| | | |
| --- | --- | --- |
| The evening program produced a funny headline, seen in this picture. I drew this chipmunk on the Empire State Building. The next morning I read that a new, restored DVD version of a old movie had been released that very day. Which one? King Kong, of course! | | |
| | | |
| --- | --- | --- |
| | | Finally, this girl genie in training is trying to stop an evil wizard. My favorite part of this workshop was the girl who could do the I Dream of Genie crossed-arm blink! |
Message to Hans Herr kids:
| | |
| --- | --- |
| | You guys are creative! I knew you were! I loved spending time with you and hearing your fabulous ideas. Keep in that creative flow. You have stories just waiting to come out, but they won't appear unless you take the time to pull them out and share them. |
And don't forget to check out the fun stuff I've got on my site!
A few pictures from the day
Check out these artists!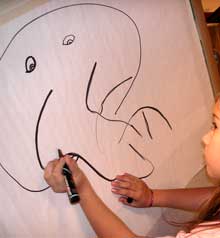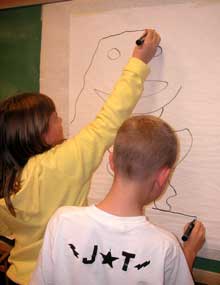 This picture above was a rare time of double-doodlers. They had both seen the same thing in our squiggle, so I let them work together. And they did collaborate beautifully!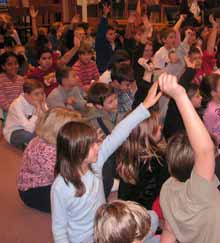 I love how eager kids are to share their ideas!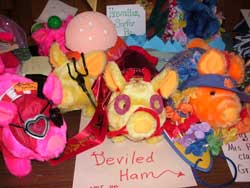 I had to take a picture of the decorated pigs. I was wowed by all the creativity shown in the ways each class designed and costumed their stuffed pig. What a fantastic idea! I wish more schools could do projects like this!
Great job, everyone!