I love to tell a good story. Even more, I love to have kids help me to make one up. Today, I was in the right place, because Highland Elementary School is the perfect place to make up stories. These kids love to create!
| | |
| --- | --- |
| | This assembly story was about a monkey trying to get a "Tofu Dog" and how his snaky sidekick tried to save him from it. |

And this funny tale is about a pig out to get a picture of himself doing something dangerous to prove that he's brave.

And though there were eight great doodles that came out of our assemblies, here's my favorite:
I totally loved how this student made a ghost, but added the chicken flavor. The one on the right is my take on the same doodle shape. Poor puppy!
One Chicken Ghost
One Chicken Pup
Kindergartners are storytellers, too!

One of the highlights of any school is the time I spend with the youngest students. They are so eager to send an animal on an adventure! Their stories are often very simple and full of nice touches.

| | |
| --- | --- |
| Like this one: two dogs camp in the woods and see a bear carrying what they think is treasure into his cave. They sneak in and take it, but find in the light outside that the treasure is a bee-hive! They toss it back, but the bear thinks they've invented a new game! | |
I didn't leave this fine school until late into the evening, but when I left I was filled with the pleasure that comes from being with kids who truly love to use their imaginations. Thanks for a great day, guys!
| | |
| --- | --- |
| | And remember, if you use your ideas -- put them down and share them -- you will always be creative. |
| | |
Here's what teachers at Highland wrote about my time at their school:

about the assembly:
I enjoyed your enthusiasm for writing and drawing. You understand how to reach kids through humor. I believe the kids were excited about their creativity... Thanks for a great day!
about the workshop:
The children were very enthusiastic about the workshop and were anxious to try some new ideas in the writing workshop.
Read reviews from other schools.
| | |
| --- | --- |
| | |
| Recess for the Brain! | |
| This was the first school in which I started to use that description for my workshops. These sessions really are fun! Here are some stories from them: | |
| | |
| The wild idea of the day goes to the starting thought for this story: what if there was a girl who got paid to lose dogs when she walked them? And what if she later realized she wanted one of the dogs she lost? | |
| | |
| In this story, we have a stuck-up rooster who thinks he's great at protecting eggs, so he enters an Egg-Protecting Contest. The fox, however slips him a peeled potato which our not-so-swift rooster thinks is an egg! | |
| | |
| Poor little dragon! The Wheel of Fiction gave us another contest, so we put this little guy into the Dragon Olympics. He's trying to wrestle a knight statue, but he's not very good. We had fun thinking of other events -- I loved the "Ice-Melting Event." Great idea! | |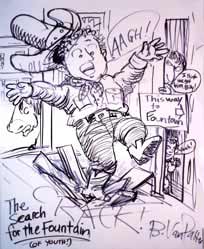 And finally, in this tale our cowboy hero is searching in a ghost town for the rumored Fountain of Youth. We had trouble thinking of what to do with the story after that great start. I later thought that the bad-guy should be Billy the Kid! He's laid a trap for our hero!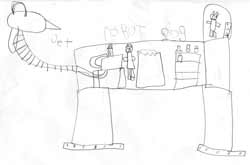 And special thanks to Jacob who brought me this cool drawing of his idea for a robot dog. I love all the stuff inside. This is one major mutt! Great imagination, Jacob!