Since we had three "castles" and three "giants", we made up a game where the two girls, Grace and Cayley, had to find which giant had kidnapped a stuffed white tiger.
To do that, they had to approach a giant and start by asking the same question: "May we enter your castle?" Each time, the giant would say, "No!" It seems silly, I guess, to make them ask each time, but it fits with the fairy tale nature of the game to have a pattern, a protocol they had to follow. Plus, it made them have to remember some rules to play.
Then, they were allowed to ask the giant if he knew any secret about the other giants, a secret that would help them sneak into the other giants' castles. Well, it appears the giants didn't get along very well, because they were all very eager to give away the other giants' weaknesses.
My giant's weakness was tickling. If one girl tickled him, he'd be so helpless with laughter, the other girl could sneak in and look for the tiger. My son, Nathan, played a giant who loved to read. Give him a book and until he finished it, he'd be preoccupied. Will, my other son, was a giant who fell asleep when someone was telling him a story.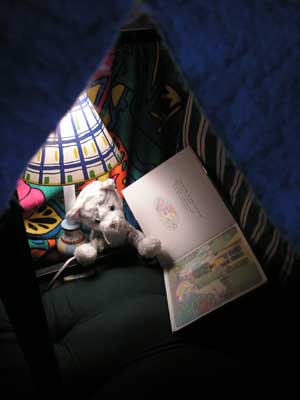 At Nathan's castle, having gotten his secret from me, the girls gave the giant a book. But then both girls went in the castle. You can imagine what happened: the giant finished the book, then bellowed, "Who's in my castle!" Squeals, half of fright, half of delight, came from inside the draped sheets. One of them should have stayed out to feed the giant more books! They sped through the fort and ran back upstairs.

Then they went to Will's castle (seen below). With their knowledge of the soporific effect of stories on him, Grace began telling the giant a rather long and boring story about a girl going to the library. Nate and I, sitting in the hall by our castle entrances, exchanged wry smiles. The girls were in and out without incident.
At my castle, they were able to quickly get in and find the tiger in the inner sanctum while I was being tickled.

They loved the game. Playing it a second time, I changed it a bit. This time, each castle had a stuffed animal to get. And the weaknesses were different: I was distracted by untied shoes, Nate was frightened by a finger puppet my giant was happy to give the girls, and Will loved to watch ballet, which Grace was only too happy to demonstrate.
What gave the game an extra edge of fun for me was the constant running snide comments my fellow giants were throwing around me. They apparently saw the unfriendliness of the giants an opportunity for improvisational acting! There was a certain Pythonesque quality to the insults.
Sound like fun? What game can you invent to go with your forts?