"That guy was great! -- it was worth having my legs fall asleep!"
(a student's comment leaving the assembly)
---
| | |
| --- | --- |
| | On a cold, COLD day in Williamsport, my heart was warmed by the spirit of this school. Jackson Elementary knows how to think creatively -- and laugh. I had about as much fun as a visiting illustrator can have. I listened to great ideas, drew and laughed the whole day... and into the night! |
I set up bright and early in a very cool small auditorioum with wide, carpeted steps then waited for the kids to come. All day long, groups came in to hear what it meant to be creative. And the kids were ready to be shown how creative they really were.

Assembly #1: First & Second Grade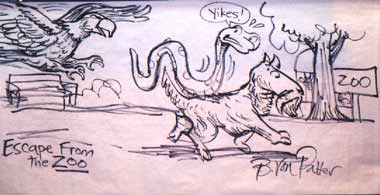 These kids gave me a story about a snake trying to escape the zoo with his new Scotty dog friend, unaware of a hunting eagle on their tail! I don't draw eagles often, so I was glad to see this turn out half-good. Little did I know the pressure I was under -- I found out later the eagle is the school symbol! Good thing I didn't make it look like a vulture or something!
Assembly #2: Fifth Grade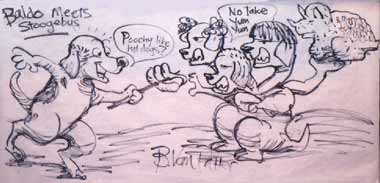 I have to say: I've never met a nicer group of fifth grade students. They gave me the elements of a bald dog who wants a huge, dinosaur-shaped doggie treat and must do battle with a three-headed dog. The Three Stooges are my addition. This gave me the chance to tell how I came to have a 20-year-old pancake in my posession. Curious? You'll have to ask them. It's much too long a story for this page!
Assembly #3: Third & Fourth Grades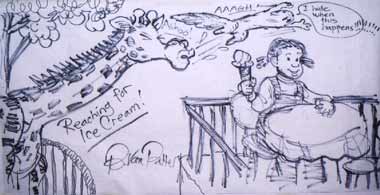 When the first three elements were given me in this story, I was thinking, "No problem." A squirrel in a tree wants ice cream. Sounds pretty normal. But then the last kid gave me a stumper: the bad guy was a giraffe! But you know something? The little surprises are the things that make life -- and stories -- interesting. So I thought of a squirrel in a zoo wanting ice cream in the zoo restaurant and needing the giraffe's help to reach. But when the squirrel climbs out on the giraffe's nose, it tickles her, so she sneezes and WHOOSH! Squirrel gets launched! (And you thought the squirrel came out of his nose, now didn't you? How gross!)
The Evening Program

It's always fun to talk to kids with their parents by their sides. And what a great turnout we had! Over one hundred people came! We had a great time in the evening working through how a story is built. The Wheel of Fiction gave us a magical spin.

Our story concerned a parrot who needed to rescue a magic wand from the lair of a dragon so that he could magically be able to swim. A fun story. What was the most fun was seeing grown-ups get into the joy of creating stories. Big thanks to all who came!
You Jackson students are wonderful, creative kids. The fun you had with me doesn't have to stop! Keep using your ideas. Put them down on paper and share them with friends. You, too, can be a creative person for life!
Here's what teachers at Jackson wrote about my time at their school:

about the assembly:
"Your program was exceptional! The presentation was lively and fun. It kept the children's attention and gave them lots of ideas. We enjoyed watching you draw and love the illustrations you drew for us."
Fun images of the day!

Here are some other shots of interesting things from my time at Jackson:

Look at these incredible pieces of artwork. These pictures are real treasure to me. They're all cut out from paper the kids painted and splattered and colored. Incredibly beautiful. I've seen countless halls of artwork and this is something special. My hat is off to the art teachers, Sandy Young and Amanda Holmes.
These doodlers are intent on their work! Ideas are flowing, folks!
The funny thing that happened during this kindergarten workshop drawing was that when one kid called out that my duck looked like a chicken, another student said, "No! It's a self-portrait!"
And last but not least is the delightful story that came out of another kindergarten workshop in which a dog tries to hide his dog house from a sheep that wants to get in to sleep out of the cold! No matter how hard he tries to hide it, the sheep finds it! I LOVE this story. Maybe this is book-worthy, and I don't say that very often!