Guinea pigs playing in the mud? Sea monsters who want to read? These are just two of the fantastic ideas that flowed from the minds of kids at Lickdale. Just look at what their imaginations came up with.
The assembly drawings

The four ingredients: A guinea pig in a backyard looking for mud up against a mean dog

The story: Our guinea pig hero lives inside but would love to have a muddy adventure like a real pig. So he sneaks outside to roll in the mud.

The problem is that there isn't any mud. It's too dry. So he decides to roll in the dirt and dive into the only water he can find: the water dish of Bubba, the backyard dog. Bubba doesn't seem very happy about it!


---
The four ingredients: A magical woman who has partly transformed herself into a dragon in a cow pasture with a tornado coming looking for a boyfriend who will paint her portrait up against a sneaky guy. (Wow! Such details!)

The story: Our Dragon Lady wants to have her portrait painted while she's still in her strange state, but her boyfriend isn't painting fast enough with that tornado coming. (He also paints her the beautiful way he sees her. Awwwww.) In the meantime, the farmer who owns the pasture wants the two of them to clear off!
The Workshop Stories
n this story, an elephant is trying to find his lost friend mouse. His quest has taken him to a beach, where he finds that the mouse has been mouse-napped by an octopus.

I How does he get him back? Well, as one young student put it so well, the elephant has to "face his fear" of water. Then he tickles the octopus, who lets go of the mouse.
The funniest story of the day goes to this one about a French man who loves his bread.

He enters a contest to bring in the most customers using one loaf of bread, but runs into a competing restaurant owner. They have a high-carb face-off! We really enjoyed the idea of him sword fighting with a loaf of French bread.
This sea monster is trying to graduate from sea monster school. In the final exam, he has to sink a ship.

But what he really wants is a treasure chest full of the best kind of treasure: books! I enjoyed writing in the names of sea novels on the books. My favorite author, Patrick O'Brian, writes novels about the sea.
I loved the pose we captured in our doodle of a man crouching low. We imagined he lived out in a rocky desert and was once a lizard!

He was transformed by a magical ring he stepped on. Now he loves being a human, but the man who owned the ring sent his trained bird to snatch it back. The magic in this story was pretty complicated, but it was a great setting and full of fun ideas.
You welcomed me with this wonderful poster on the right. Thanks! What a great use of my "Write Your Own Cartoons" book!

And you welcomed me by sharing your wonderful story ideas, too. All in all, a great day! Good stories, nice kids.
I hope you all had a wonderful time making up tales. Isn't it fun to imagine? Now that your ideas are flowing, keep writing and drawing. Don't let the fun stop now!
Remember... you have great ideas. Share them!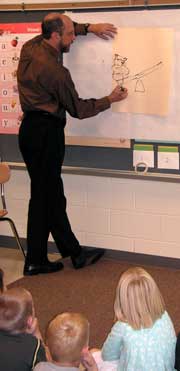 I was drawing all day. That's the way I like it!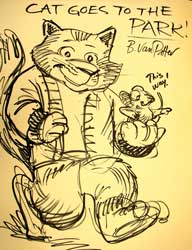 Here's a drawing from a kindergarten story about a cat who goes to play on the playground, but has to deal with a mean bulldog who won't share the see-saw!

In addition to all the free material on this site, I have downloadable books that are perfect for keeping kids writing in school or at home!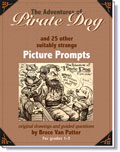 The Adventures of Pirate Dog
Picture prompts are a great way to inspire kids to write! Here are 26 of my best drawings with fun, pre-writing worksheets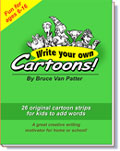 Write Your Own
Cartoons!
Kids can add the
dialogue and their special touches to my funny comic strips filled with wacky characters!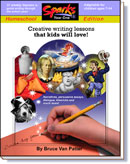 Sparks: Year One
Here's a fantastic resource for teachers: a whole year of weekly creative writing lessons built around wacky holidays!