My return visit to this school gave me a chance to prove that...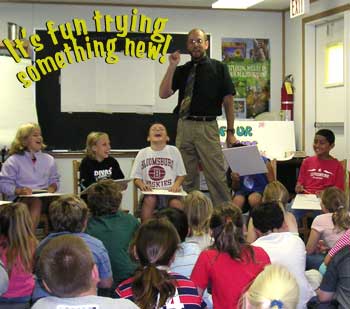 I've been looking for a chance to try out some ideas I have for workshops. They're wacky and fun, and as usual, help kids to see how great their ideas can be. Let me tell you about how they went.
A day to play in workshops:

Pulling out random words we brainstormed, we made headlines you'd never see in newspapers!

---

Here are some our favorite headlines from our sessions:

Angry Monkey Jumps Over Spy!

Small Grandpa Hikes to Sleeping Mouse!

Furious Fish Dances With Talking Dog!

Pretty Cheetah Runs After Elephant!


Here are the two we chose, one from each workshop. See if you can find the story each one got turned into on the right.

Yes, I know they were both "mad" characters. But emotion is a good way to help get a character started. Plus, I thought these would make great stories.

If you want to see how this activity works, check out my page on Wacky Headlines. For even more fun, let Creative Times make the headlines for you -- there are over 100 million headlines you could get! And if you do, email me your strangest ones!

---

In Bag This Story, fifth graders worked in teams (I called them chapters) to decide on a main character. Then we sent our "dude" on a quest.
It was great to see each team brainstorming wonderful ideas! Can you find this story in the column?

---

Last but not least was this workshop: Four Corners. By folding a paper into four panels, kids were able to make up odd combinations of hero, setting, want and villain.
We chose to work with a fat wizard in a castle looking for a tissue, going against a teacher! What a great start! It took me two tries to get the sneeze right, though.
| | | |
| --- | --- | --- |
| | | Hey kids, we've worked together twice in one year! That is a double dose of ideas. Keep making up stories and drawings. Remember to share them with friends and family! |
New workshops, new ideas!
Check out these stories: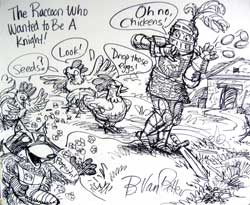 The Raccoon Who Wanted to Be a Knight. When a raccoon asks a knight if he can learn from him, the stuck-up knight just tosses him an old, metal shoe to play with. But when the knight gets caught raiding a chicken coop, the raccoon draws away the angry chickens. How? When he left corn in the metal shoe under the hot sun, it made popcorn! Maybe now the knight will give him a chance.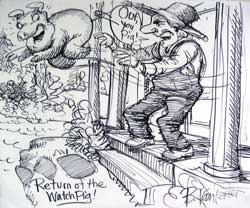 In Return of the Watch Pig,we find a farmer tossing away his faithful watch-pig just because he didn't think the pig was good enough for his new mansion. (He found gold on his island and had the new place built.) But in the distance, two thieves are plotting to rob the farmer's place. Will the watch-pig be able to swiim back in time?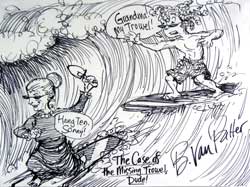 Surfing was this dude's life. But then he got distracted by making sandcastles and stopped competing in the waves. His grandma steals his favorite trowel. Not knowing it was her, he goes on a quest to find it in The Case of the Missing Trowel, Dude! When he finally finds out she was the thief, he chases her to a win in the big surfing contest! Go granny!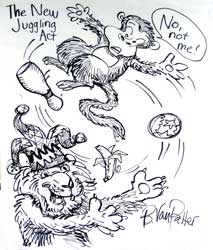 In The New Juggling Act a juggling monkey finds his jester hat missing. The lion took it so that he could make the monkey teach him to juggle. Seems like the ending is still up in the air, doesn't it?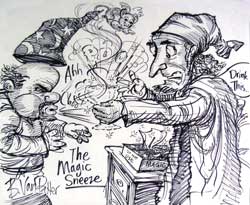 Where might a sneeze turn household objects into flying chubby mice? In a wizard's house, that's where. The Magic Sneeze tells of a wizard in training who grabs a magic tissue by mistake, which gives him this strange power. When his teacher tries to give him a potion, even that gets sneezed into a mouse!
You all have such wonderful, creative minds. Keep using your ideas!