The assembly stories
The four ingredients: a bear in his back yard looking for food up against a giant mosquito!

The story: Our hero is a bear who loves barbecues. But the bugs are always a pain, especially the mosquitoes. Imagine how annoying it would be to have a giant one show up!

So our bear decides to share his food with the big insect. Maybe this way, he'll decide to leave the bear alone.

That's the first time I've ever had to draw a giant mosquito! It was fun!
---
The four ingredients: a girl basketball player on a remote island looking for a friend up against a guy who steals things.

The story: Stuck on an island, this girl only has her friend, the basketball, to talk to. I decided to name him Spaulding. But someone else is one the island and wants the ball -- a wild kid!

Spaulding isn't how you spell the manufacturer of sports equipment, but it is common spelling for a person's name. So this way, I can use it and not get bothered by Spalding's lawyers!
The workshop stories
We started with this doodle of a guy holding a scrawny plant. From there, we imagined a guy who grows magical plants but runs out of soil. When he goes back to get more, the magic plant fairy talks him into taking talking plants!

This plant is one that specializes in insults!
---
It's amazing how a simple doodle like this farm girl could end up with a story as complicated and creative as the one we invented about a farm girl who is actually an alien tracker.

She knows that one animal on a farm is actually an escaped alien from her planet (this girl is an alien, too). It's hard to tell because the alien she wants is a shape-shifter. She decides the ornery goat must be the alien in disguise. So she puts the goat out for the mother ship to grab.

But, she was wrong. The actual animal she wants is the cute, little bunny she's holding. Ah, what a genius plan that is -- to make oneself a cute, innocent-looking bunny!
---
And finally, here is a story about a young man who is designing a Haunted House ride at an amusement park. He's a kind of genius. But his mom hates him having anything to do with that scary stuff, so she doesn't know what he's up to. At least, until his younger brother tells on him.

So as the mom takes the ride to check out what's going on, the inventor-boy has to keep distracting the mom so that she won't see how scary it actually is!
---
| | | |
| --- | --- | --- |
| | | That was another fun day in this school district. I hope you LB kids had as much fun as I did brainstorming these stories. Keep going! The summer is the perfect time to work on a long story. Keep your ideas flowing! |
Remember, kids: use your creativity. Keep writing. Keep drawing. Don't forget how much fun it is to get your own ideas out and onto paper!

In addition to all the free material on this site, I have downloadable books that are perfect for keeping kids writing in school or at home!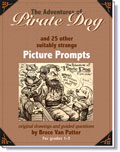 The Adventures of Pirate Dog
Picture prompts are a great way to inspire kids to write! Here are 26 of my best drawings with fun, pre-writing worksheets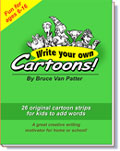 Write Your Own
Cartoons!
Kids can add the
dialogue and their special touches to my funny comic strips filled with wacky characters!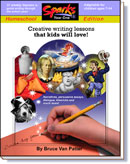 Sparks: Year One
Here's a fantastic resource for teachers: a whole year of weekly creative writing lessons built around wacky holidays!