My visit to Mt. Arlington
I love days like this: fast-paced, full of imaginative ideas and laughter. An exciting time! Here are the stories we invented.
The assembly drawing

The four ingredients: a stand-up comic in a dungeon looking for a magical key up against a girl troll

The story: A comical young man comes to a castle where he tries out for the jester job. He does so poorly, he gets dropped into the maze of caves under the castle, where the trolls live and keep the prisoners. Things look pretty bleak for our hero.

But then he discovers a door in the rock with a key- hole. He can feel fresh air coming through the keyhole, so he expects it is a way out of the dungeon. But how will he get the key from the girl guard?

By telling jokes to make her laugh so hard, she doesn't realize he's stealing -- well, borrowing -- the key!

---
We started off the workshops with this fun story about a magician who wanted so bad to be liked by audiences that he sent away for a magical creature gauranteed to make magic tricks work.

Now, if only our magician hero knew how to follow instructions!

Instead, he takes his little friend, "Muffin," and mistakenly transforms him into a great beast. All looks terrible for our hero. But then, just when all seems lost, the audience begins to applaud -- the very thing that slowly changes "Muffin" back into his tiny, furball self.
---
Here we see an imposter king. He's actually a popular guy in the local town but is also pretending to be the king as he plots to give over the kingdom to a neighboring country!

But a girl who has befriended him in the town begins to wonder about him. Why does he disappear for long stretches of time... just when the king appears in public.

He begins to trust her, though, and hints at a big secret e has in a lonely tower by the ocean. She decides to go and find out for herself what is in that tower.

The royal pretender realizes he's got to get there first and stop her. What is in the castle? Better ask WHO is in the castle -- the real king!
---
Can pigs sing? If they have a magical singing necklace in their pockets. That's what we put into this charming story. This girl pig wants to win a singing contest. She finds a magical necklace that gives her an amazing singing voice. She seems likely to win. Until she loses the necklace!

But her good friend, a chihuahua, also enters the contest and has a beautiful voice, too. The pig is convinced the pooch has pinched her necklace. (That's slang for stolen, by the way.) But actually, the dog has just been taking lessons.

Who has the necklace? A weasel! What a weasely thing to do.

My favorite moment of the day is when I decided to make the characters sing their lines. The kids in the workshop sung the lines to me!
---
Last, but not least, we have a tale of a teenage boy who gets up one morning and discovers a little man in his cereal! The little guy is an alien, drawn by the lighthouse in which the boy lives.

But one day, the little guy is missing. The boy knows a crazy old man lives nearby who talks all the time about aliens. So the boy is sure the old captain has something to do with the missing visitor.

Actually, the mom has found the alien and at first thought it was a toy. When the "toy" moves, she decides she'll get rid of it by dropping it over the edge of the lighthouse. But here come the boy and the old man! And watch out for the alien ship!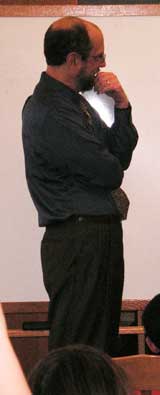 In addition to all the free material on this site, I have downloadable books that are perfect for keeping kids writing in school or at home!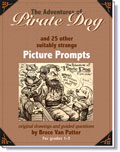 The Adventures of Pirate Dog
Picture prompts are a great way to inspire kids to write! Here are 26 of my best drawings with fun, pre-writing worksheets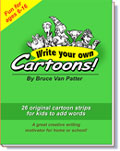 Write Your Own
Cartoons!
Kids can add the
dialogue and their special touches to my funny comic strips filled with wacky characters!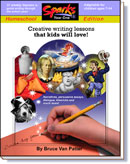 Sparks: Year One
Here's a fantastic resource for teachers: a whole year of weekly creative writing lessons built around wacky holidays!

Wow -- that was a lot of thinking and drawing. The kids did the thinking, I did the drawing. Well, actually, all of the character doodles above were made by kids, with a few of my touches thrown in.

That's what makes days like this so much fun. It's a joint effort. We created together. Working on ideas together is a wonderful way to get imaginations running.

So, Mt. Arlington kids -- you've seen how much fun it is to make stories. You've also seen how great your ideas are. So I have a question for you...

When are you going to sit down and put your next story onto paper?

And check out some of the fun stuff I have on my site!