Another great day with the fourth-graders of Old York!
The assembly drawings
Check out these stories:
The four ingredients: a construction worker superhero on the top of the Empire State Building looking for two tickets for a cruise up against a thief

The story: our hero has wanted to thank his mother for all her care over the years, so he gets two tickets for a cruise on a blimp to a remote, hard-to-reach island. But before he could take her, a pirate steals them from him!

The pirate was once swimming on that island when a shark took his leg and he wants to get back to exact his revenge on the shark. This is his first chance to get back. And he's climbed the Empire State Building to jump onto the blimp before our superhero is able to wrench the tickets away from him!
---
The workshop stories
In this story, a boy who has a fear of bats and girls discovers a cave. When he gets down into the cave, though, he finds a big pile of bones! He fears a terrible monster lives there.

A girl who wants to be friends with him goes off to explore the cave to see what is so interesting about it. But she gets captured by the monster!

So the boy has to come back to the cave and face his fears -- not only of the monster and the bats, but of girls! A bat actually helps him by distracting the monster.
---
This girl keeps wounded animals in a secret room in her house. There she nurses them back to health, but her parents don't know about it. There's something she doesn't know either: a troll has found his way into the room, too!

In another rescue story, she has to find a way to save her only non-animal friend, a girl who came into the room to see what her friend had hidden there. I enjoyed telling the kids about the secret passage way in my childhood bedroom!
---
Finally, this boy is a mapmaker. He creates a detailed map right out of his own imagination. His little sister -- who he doesn't treat very well - wants desperately to see the map. So she takes it and heads off into the jungle, following the trail her brother has marked out.

But she runs into a giant lizard. To save her, he paints a portrait of a jaguar and shines light onto it to try to scare the beast. He didn't need to -- his sister had made friends with it!
---
We had a story-packed day, full of the usual Old York magic. Great job everyone!
Keep being creative, and check out the fun stuff on my site!

In addition to all the free material on this site, I have downloadable books that are perfect for keeping kids writing in school or at home!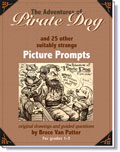 The Adventures of Pirate Dog
Picture prompts are a great way to inspire kids to write! Here are 26 of my best drawings with fun, pre-writing worksheets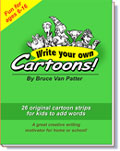 Write Your Own
Cartoons!
Kids can add the
dialogue and their special touches to my funny comic strips filled with wacky characters!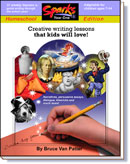 Sparks: Year One
Here's a fantastic resource for teachers: a whole year of weekly creative writing lessons built around wacky holidays!