| | |
| --- | --- |
| | Pull up a chair a sit for a while in a place where... |
Okay, with a name like Paradise Elementary, you would think kids would be about as creative as anywhere. Guess what? It's true. These are kids with active imaginations! Just like this wonderful chair in the art room says, all kids have a creative streak.
Can I prove it? Well, let me show you a few examples from our doodle time:
We started with the same shape. The drawings above are by the kids -- aren't they cool? And this one to the right is mine. I liked making the kids think the top part was hair until I made it into an octopus!
---
From assembly to workshops... we had fun!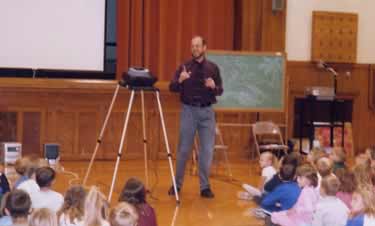 In the assembly, I had two great teams of kids come up and help me. You've seen the doodles, now let me tell you about the story we made up. (You can see the drawing in the photo below.) A dog goes out to the park to make a friend. He sees a lion in a martial arts outfit. The dog says, "Hi ya!" The lion thinks the dog is also into kung fu, so he replies, "Hi- YA!!" and throws in a chop. They both find what they wanted -- the dog gets his friend, the lion gets his exercise partner! I love happy endings.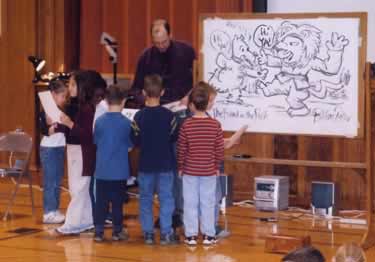 Kids, remember how much fun we had. It's just the start. The fun of making up stories never has to stop! Just use your imagination. Write or draw your ideas. And share them with someone!
Here's what teachers at Paradise wrote about my time at their school:

"My students really enjoyed having input for the story and illustration. Every child was encouraged to be creative and share their ideas. When you mentioned a particular idea or used it as part of the story, that child's eyes really lit up!"
Read reviews from other schools.
| | |
| --- | --- |
| | |
| Stories from the minds of Paradise students! | |
| | |
| The first workshop must have had pumpkins on their mind, because our hero has to stop an evil scientist from turning his favorite pumpkin into a robot! Good thing he had a gang of ducks to help! | |
| | |
| A cat that wants to win a clown juggling contest has got his hands full as a bad dog throws in everything he can think of to make the cat lose. The kids had fun thinking of things for the cat to juggle -- including an elephant and a piranha! | |
| | |
| And in a wonderful story, a guy who dreams to be an artist meets a scary monster who protects its old mansion. I was so pleased with the way kids thought about how the monster might feel being all alone for so long. Great job, guys! | |
| | |
| My thanks to Kellie for this fantastic drawing she gave me. A teacher said she thinks Kellie draws like me. Hey, maybe I'm trying to make my stuff look like Kellie's! | |
| | |
| | |