It's always great to visit this fabulous school. Here are today's stories.
The assembly drawings

The four ingredients: a girl pirate on a ship looking to rule the world up against a 40-foot parrot

The story: I wish I could have drawn this parrot to look less like an eagle, but this is part of the problem of drawing on the spot -- sometimes I don't get things quite right. But I am proud of my effort to try to draw this from the viewpoint of looking up, which is a tough way to draw.

And I love the title we all came up with. Great fun!
---
The four ingredients: a dragon in a prison who wants a book up against an annoying dragon

The story: Another thing that can happen when I draw on the spot is that I sometimes wish I had come up with a differrent title. What I wished I had named this is on the little sign: The Overdue Dragon.

By the way, has anyone wondered about the name of the author of "How to Escape?" You might want to look Frank Morris up.
The Workshop Stories
This frog is actually a boy who's been transformed into a frog. He wants to rescue a girl who is a friend and has also been changed into a frog.

But first, he has to defeat the Mushroom Wizard, a snapping turtle who rules over the Mushroom Kingdom. Our frog hero has to get the help of a giant fish in the pond.
---
I guess I had Indiana Jones on my mind when I drew this character coming out of the TV. He was brought out by a magic remote.

The remote is being used by this couch potato's wife, who is using the remote to bring to life dashing characters from TV shows. Our "hero" wants to get his remote back!
---
Here's one more wizard story. In this tale, a young wizard is trying to defeat an evil, master wizard -- the head of the evil wizard group that the young guy has joined. He's trying to rescue a princess.

But in this picture, you can see that the young man's magic is just bouncing off the master wizard. It's hitting a goat! Maybe the goat will have to butt in and take care of things!
---
That was another fabulous day at Penn Kidder. And this time, we even had an evening show for parents! Thanks to all who came out; we had so much fun inventing stories all together. If you missed it, it looks like I'll be back next year to do another one.

Penn Kidder kids: you have such great ideas. This summer, put some of them down on paper. Spend time developing them. Your ideas are too good to leave in the back of your minds collecting dust!

Remember... you have great ideas. Share them!

In addition to all the free material on this site, I have downloadable books that are perfect for keeping kids writing in school or at home!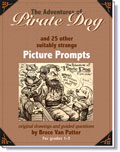 The Adventures of Pirate Dog
Picture prompts are a great way to inspire kids to write! Here are 26 of my best drawings with fun, pre-writing worksheets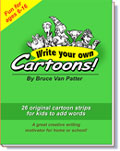 Write Your Own
Cartoons!
Kids can add the
dialogue and their special touches to my funny comic strips filled with wacky characters!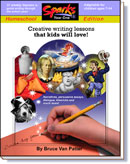 Sparks: Year One
Here's a fantastic resource for teachers: a whole year of weekly creative writing lessons built around wacky holidays!