You just can never predict what ideas will pop out of the creative minds of kids. My time at Quarryville was spent digging out some wonderful and sometimes wacky thoughts.
| | | |
| --- | --- | --- |
| | | Kids showed me some interesting thinking when they turned doodles into drawings. This one below is incredible! |
Story Nuggets:
Here are the two stories that came out of the assembly. The first one came from the older students. The ingredients were: a cat with flaming breath (an intriquing idea just in itself) on a high cliff trying to escape with his trusty sidekick, a superhero armadillo! How funny -- how strange! I didn't really work out a story here, but it was fun trying to get the perspective of a high cliff.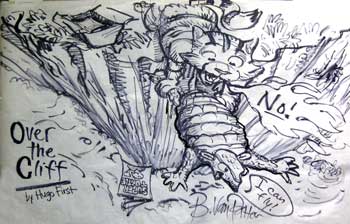 ---
Then in the second assembly, the elements came together better. In this one, a tiger goes up a mountain to make friends with the fiercest animal around, thinking that at least this bear won't run away from him. I was glad for the extra time after school to make my tiger look more "tigerish". My big cats tend to look just like, well, big cats.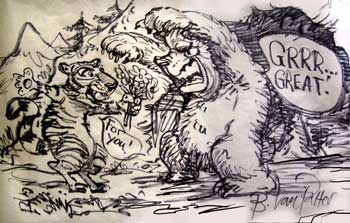 After school I had a final treat. A student came in with his mom to show me drawings he had made. Wow! I was totally amazed. What talent! Here you can see a cobra wrapped around a stalk of bamboo. Keep up the good work!.

| | | |
| --- | --- | --- |
| | | As much fun as I had helping the kids make up stories, I hope that they got a taste of how easy it is to brainstorm -- it's like an idea party! |
Hey Quarryville kids -- I didn't have to dig deep to find your great ideas. You are creative. Keep using your imaginations and you'll stay that way!
And a good place to start is with some of the activities I have right here on my site. You can find a list of them at fun stuff. Don't let the story-fun stop now -- keep going!
Ready, set... imagine!
Check out these stories: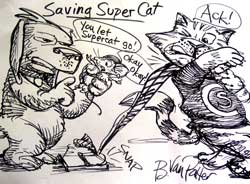 Saving Super Cat. A dog, who is afraid of Super Cat, has to rescue him when a mouse catches him in a trap. It was fun giving the cat a "Calvin" face.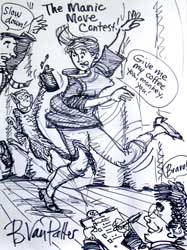 In The Manic Move Contest, a lady who has too much caffiene in her life enters a dancing contest, but a friend (offstage) sends in a monkey to steal her coffee. Why a monkey, you ask? Why not?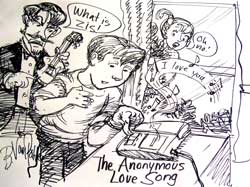 We took the fabulous drawing of the piano girl (seen over on the left) and imagined her writing a love song for a boy she liked and putting it on his answering machine. But his music teacher isn't happy about this new distraction!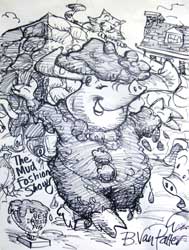 When a pig gets advice from a fashion-minded cat, she enters The Mud Fashion Show. Her huge ears actually help her win!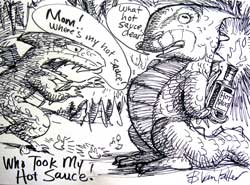 After eating spicy chili at lunch, I could really relate to Who Took My Hot Sauce! A young dragon has been using hot sauce to help him breathe fire, but his mom is hiding it from him. She thinks he's not old enough for flaming breath! (I actually think I have a song with this title.)
| | |
| --- | --- |
| | And here's the totally cool dragon a kid drew to get this last story started! |