I have visited many, many schools. But this school was something extra special. From the moment I walked in the door, I knew I was in for an amazing day.
Ideas are taking shape...

The four doodle drawings at the top were all from the same original shape. You can see one of the artists at work on his amazing carriage. The "king" fish, above, was a particular stand-out of the other doodles, though I loved them all, of course.

This story, from the first assembly, had a dog trying to buy the last bottle of sun-tan lotion before vacation. Little did he know that a snake wanted it, too. Do you like the bathing suit on the snake?

And in the second assembly, I got to draw a Viking! Now, I don't know if there are Vikings in Iceland. I do know there are volcanos, but I've drawn enough of them lately. So this Viking is trying to track down the last dragon, who, by the way, breathes candy, not fire! The dragon has come with his little dragon sidekick to stop the Viking from bothering them by stealing his laptop! Those were really creative ingredients for a story!

With everything moving so fast all day long, it's hard to get time to chat. I really enjoyed meeting Linnae, who loves to write! I could tell she was a writer.

These are a few of the other kids who worked with me during the day. All the students had great ideas.
| | | |
| --- | --- | --- |
| | | It was a real treat for me to visit Mrs. Spangler's class of writers. They've been faithfully doing my Sparks lessons -- weekly creative writing lessons I send out to over 300 teachers around the world for free. I loved hearing from the kids about which lesson was their favorite. Among the top lessons were: writing mysteries with dog detectives, making random headlines, and pulling different parts of a story from bags! |
Thanks for such a fun, fun day! I'm excited about hearing more from you Reidenbaugh students. Keep writing, keep sharing your ideas. Your creativity is too good to lose!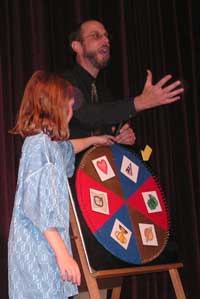 Amazing Stories!
When the wheel turns, one never knows what kind of tale will spin out of our brainstorming minds. Here are some from the workshops...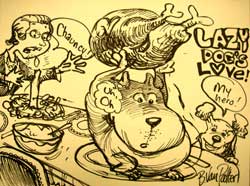 Lazy Dog's Love. We started this session with a wonderful drawing of a big-nosed dog lying down. (I added a few details and a comment later to the drawing below.) In our story, Lazy Dog has one skill -- he's really fast at swiping food. So he's trying to impress a visiting girl dog with the ultimate swipe: the turkey from the Thanksgiving table!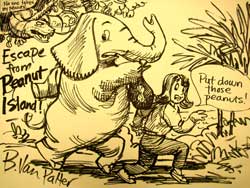 Escape from Peanut Island. An elephant has run away from the zoo, because the girl zoologist left the key -- usually in her pocket -- in the cage door. Where would an elephant go? To Peanut Island, of course! But the island is guarded by an enormous snake!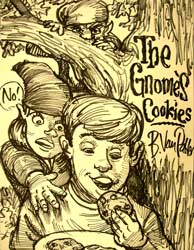 In The Gnome's Cookies, we got dangerously close to having elves baking in the hollow of a tree. So they're gnomes baking in a hollow tree. This gnome girl wants a human boyfriend, but the gnome rule is: no talking to humans! The dad, in the background, has put something in the cookies that she doesn't want the boy to eat. Oooo. A secret ingredient?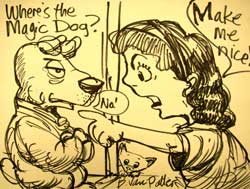 In Where's the Magic Dog, a girl who's rather nasty is looking for a magic dog to change her into someone nice. The problem is that he's hidden in a kennel and she doesn't know which one he is!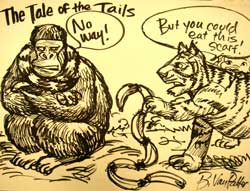 When two tigers take off their tails -- in our stories, anything can happen -- a gorilla finds them and uses them for a scarf. The tigers are trying to find a way to get them back. I had to get out my trusty animal drawing book to help me with the gorilla.