The Assembly Stories
The four ingredients: a librarian on a stage in Central Park looking for a chopper up against an evil teacher

The story: our hero wants to save the last book from an evil teacher bent on replacing all the books in the world with computers. She sweeps in just in time to snatch the book from his grip.

That is one dedicated librarian!
---
The four ingredients: an evil scientist girl in the Land of Pies who wants a car but with a silly sidekick of a lion

The story: An evil scientist girl has invented a whirling fan that helps to transport her to magical lands. She hopes to find something she can steal to sell back in her world. But when she arrives in the land of pies, her plan to steal a giant pie runs into two problems: she can't go fast enough to make her windmill work. And oh, yeah -- there's a hungry giant after her, too!
The four ingredients: a dog in a school looking for a friend up against a mean duck

The story: our hero dog is new at school. His only new friend is a duck who keeps taking things from him. Here we can see the duck taking and eating the graham crackers from the dog's lunch. The lunch lady isn't happy about all the noise.

The cat on the right thinks the duck is being really mean, so I think he'll become a better friend for our poor puppy.
The 5th grade workshop tales
We started with this doodle of a thinking detective. We decided he was actually an alien in disguise in a remote science lab far out on an island. He was found by the scientists, but they don't know that he's really an alien. What he wants most to do is to escape and return to his people. But along the way, he's gotten to like a human girl very much.

Suddenly, one of the aliens' pets shows up to try to rescue the boy. The girl goes to try to stop it, putting herself in danger. The boy now has to choose if he'll escape or save the girl and give up his real identity.

The kids asked me what the boy was saying in the drawing. I told them I don't know. I don't speak alien.
---
I love this doodle of a guy screaming at a stick. From this drawing, we built a story about an apprentice blacksmith who is trying to use a magic stick to save a princess mouse who has been locked up in a castle.

But the blacksmith also wants to get to the mouse and switches the magic stick so that the boy won't win.

I thought the collar in the doodle was interesting, so I put it in my drawing, but I think it makes him look more like a prince than a blacksmith's helper.

And the blacksmith looks like a fisherman the way I drew him. It's funny how drawings turn out sometimes.
---
What a great day of story-making!
Speaking of funny pictures -- I like how this photo makes it look like the giant is trying to bite my hand!

Wasn't that fun today, Rice students? I hope you enjoyed yourself as much as I did. You should know by now that I was right -- you are creative!

Now, what will you do with your great ideas? I hope you'll put them down on paper and share them with others. The best way to stay being creative is to share your ideas.

And don't forget to take a look at all the fun stuff I have on my site!

In addition to all the free material on this site, I have downloadable books that are perfect for keeping kids writing in school or at home!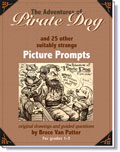 The Adventures of Pirate Dog
Picture prompts are a great way to inspire kids to write! Here are 26 of my best drawings with fun, pre-writing worksheets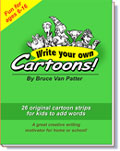 Write Your Own
Cartoons!
Kids can add the
dialogue and their special touches to my funny comic strips filled with wacky characters!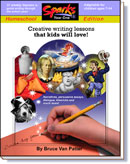 Sparks: Year One
Here's a fantastic resource for teachers: a whole year of weekly creative writing lessons built around wacky holidays!