Whenever I return to a school, it gives me the opportunity to use my "other" workshops - the ones I don't usually do. It's so much fun for me to use my crazy ideas for inventing stories with kids. And what a great time I had with all the grades today - from kindergarten to 5th graders! Here are the stories.
The assembly stories
In The Dragon's Crown, we imagined different variations of the classic story of a prince who defeats a dragon for a princess. In our version, a dragon defeats a prince for a princess! How does that work, you ask? Here's the idea: a queen doesn't like her son's choice for a princess, so she works magic on him, transforming him into a dragon. The only way to break the spell is if a real princess removes his crown.


Meanwhile, the princess, heartbroken from the disappearance of her true love, starts to see another prince - one sent to her by her former boyfriend's mother. Here you can see the dragon gesturing to the princess to remove his crown. She seems curious, but the new prince is ready to slay the foul beast!

---
In Unhappy Hide and Seek, we used a game I call Four Corners to come up with this combination: an unhappy hippo in a house looking for his sister. We imagined that he is babysitting his sister in a huge , creepy mansion. He tells her that he'll play Hide and Seek, but it's just a way to get rid of her so that he can do his artwork. But after a while, he realizes that if he doesn't find her before his parents come home, he's in big trouble.

So he sets off to find her. She's got a surprise or two in store for him!

(One other thing: since your principal shares my excellent taste in football teams, he'll know what coach the hippo looks like.)

---
In Monkey Cake, we used my Wacky Headlines idea to come up with one strange headline: Embarrassed Cowboy Bakes Monkey. From that, we imagined that a cowboy has a dream of opening up a bakery on the plains. But he's not much of a baker. When he orders some chocolate from another country, the local gang of bullies - who love to mock his baked goods in public - change the order to a monkey!

By accident, the monkey somehow gets into the cake, and when he pops out, the head bully is ready to ridicule the baker, but it turns out that the local people think the Monkey Cake is a great new treat for kids' birthday parties!

---
| | |
| --- | --- |
| | In Time Spy, we also used Wacky Headlines. This time the headline sent us off into a spy story. This girl wants to discover who this strange young guy is who seems to be following her around. In fact, he's a spy from the future who knows that someday, she'll take his job, so he's come back into the past to discourage her from being a spy. But when she follows him to his machine on a city roof, he rushes to his machine, only to tip it nearly off the building. Good thing she's quite athletic and could save him! |
| | |
| | | | |
| --- | --- | --- | --- |
| | | | The Bunny Pirate came out of a kindergarten session, in which we pulled out a pirate hat from my Bag of Hats. We decided to send him to Salad Island after a giant carrot - marked by a large C on the map. When he gets there, he finds the carrot guarded by a very strong pig. Bunny Pirate talks him into feasting on the carrot with him. |
| | | |
| --- | --- | --- |
| | | And finally, First Grade helped a tale get started by pulling out a tiny lamp from my Bag of Cool Stuff. We used it to dream up a story about a young bulldog who wishes for a new house, but the Genii Poodle of the lamp only knows one kind of house - so she makes a giant lamp for him! He tries it out and loves it! |
That was another great day of flowing imaginations. Isn't it fun to invent stories, Salem Drive kids? I hope you had as much fun as I did. I know I don't need to remind you to keep putting your own ideas on paper. I'm sure you're eager to do that.

Keep having the fun of being creative!

And while you're here, check out the fun stuff on my site!
Here are some of our starting pictures: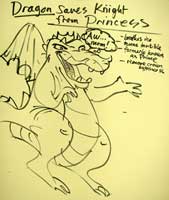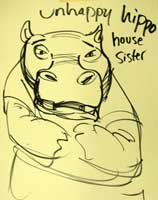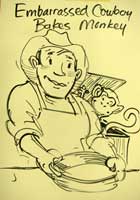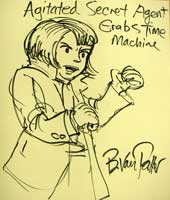 In addition to all the free material on this site, I have downloadable books that are perfect for keeping kids writing in school or at home!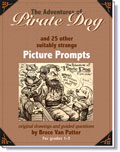 The Adventures of Pirate Dog
Picture prompts are a great way to inspire kids to write! Here are 26 of my best drawings with fun, pre-writing worksheets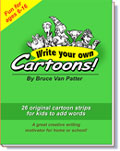 Write Your Own
Cartoons!
Kids can add the
dialogue and their special touches to my funny comic strips filled with wacky characters!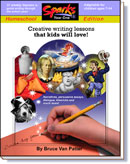 Sparks: Year One
Here's a fantastic resource for teachers: a whole year of weekly creative writing lessons built around wacky holidays!