Gee, but it's great to be back home! After all these years, what a treat it was to be in a school in Springfield, where I grew up. I spent my first four years living on the same street of the school before moving across town. So you can imagine how much fun it was to see the creative minds of these kids in action!
Let me show you some of the creative fun we had...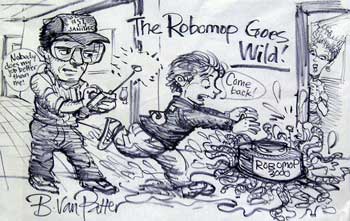 The first assembly gave me the ingredients to this story. A janitor is trying to stop a kid's invention from ending his job. Now, I'm not saying anything bad about maintenance guys. As a matter of fact, Joe, the maintenance man I met first thing in the morning, greeted me with "Welcome home, buddy!" That was a nice start to the day.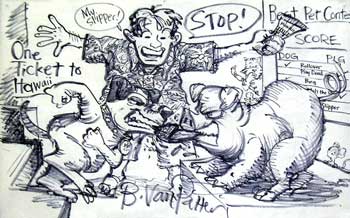 And in this story from the second assembly, a dog and a pig are competing for a trip back with this owner to his place in Hawaii. I had a little trouble finding space for the word Hawaii. I'm a little happier with where I have it now.
A day of kid ideas!

---

Sometimes our workshops create some funny character drawings -- all done by kids.

Can you tell which story has this character?

---

Remember, Springfield kids, you are creative! The ideas you came up with in our time together are just a tiny spoonful compared to all the other ideas in your imaginations. Use your ideas! Put them on paper and share them with others.

It's fun!
One last thing...

GO

EAGLES!
And don't forget to try some of the fun on my site! Check out fun stuff. It's a great place to keep your creativity growing! And teachers... don't forget to check out Sparks, my free weekly email of a writing prompt!
A 4th Grade Storm of Stories!
While the snow came down outside, we were whipping up some fun tales.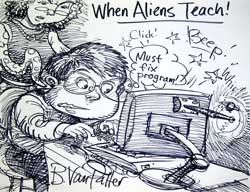 When Aliens Teach. A kid accidentally starts a program on his teacher's computer which will do all kinds of crazy things to his school. And he discovers that it's all a plan by his teacher to take over the world! She's an alien -- who only turns back into her alien form when she gets angry!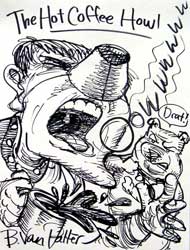 In The Hot Coffee Howl, a man who wishes he was a dog enters a barking contest. The other dog gives him really hot coffee to mess up his voice. He didn't know this would happen!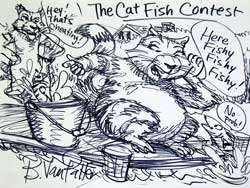 This fat cat loves to stay inside. But she also knows how to talk to fish, so when she hears that a fishing contest will win her a new aquarium, she uses her special power to win, in The Cat Fish Contest. (After I drew the fish, one student suggested they should have been catfish! I love that idea!)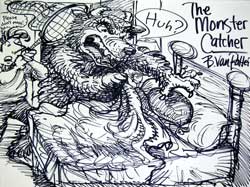 Don't you just love a good "monter-in-the-closet" story? Here, a man is trying to catch the monster in his closet to win a contest. Yes, another contest. The Wheel of Fiction sure liked contests today!
In the story below, a girl has earphones so that a "cool" girl can give her instructions at a party. She doesn't know that her coach wants to make her look silly. The coach doesn't know that our hero girl is going to impress everyone with her crazy acts!