How was my time at Sheridan Elementary? Amazing! It made me look at things in a new way -- doodles, cheerleaders, even the angles of the photos taken during the day. These interesting views, many of them tilted, were taken by my son Nathan, who came along for the first time. He's got an interesting way of looking at things!
Creative minds at work!

These are just four of the doodle drawings made by students in the assemblies. Amazing, aren't they? I love the way kids make me look at a shape in a different way.

| | | |
| --- | --- | --- |
| | | These kids were brave enough to show off their ideas. Thanks to all those students who shared their imaginations with all of us. You have amazing ideas! |

This story, from the first assembly, had a dog looking for his pet monkey in a zoo park. The monkey, it seems, wanted to get some attention for his singing. On top of the giraffe, everyone could hear him. The dog wants him back, but the giraffe likes the attention he gets with a singing monkey on his head, so he's not going to help the dog. I enjoyed playing Bonnie Raitt's "Monkey Business" for this one while I sketched.

The part I loved about this one was the "want" given to me by a girl student. A bear in the jungle of Madagascar wants to make a club! Wonderful! So here, he's directing his Scaring Club to frighten off a photographer hunting for pictures. I like the big, tough tiger saying, "Boo!"
You have stories, to tell, kids. And talking to your teachers, I can see that you all do a lot of writing. Keep it up! I'm so glad I got to meet all of you. Thanks for sharing your ideas with me!
Remember... you have great ideas. Share them!
Amazing Stories!
Check out these ideas: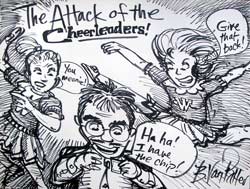 The Attack of the Cheerleaders started with an idea for a story about a robot cheerleader. Before we were through, I had found out that a teacher had been a cheerleader, and I had a student come up and demonstrate a move. I tried to put it in the drawing. I loved the idea of cheerleaders trying to foil an evil plot.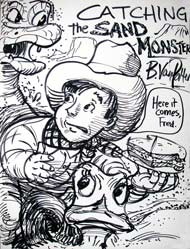 Catching the Sand Monster involved a cowboy who rides ostriches, since he's afraid of horses. Other cowboys make fun of him. So he goes out to proved himself by catching the Sand Monster. With what? A sandwich, of course. I think I can do a better ostrich -- this one looks too much like a duck!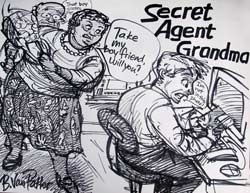 This main character was great! It's a grandmother who is also a secret agent. In this story, someone has kidnapped her boyfriend (yes, grandmas can have boyfriends) to make her give up a photo she took of the bad guy doing a crime. But the evil guy, a young whippersnapper, doesn't realized that she's terrible at taking pictures, so only a part of him is in the photo! Too late, pal! You're about to get whacked with one major handbag!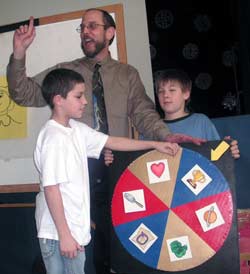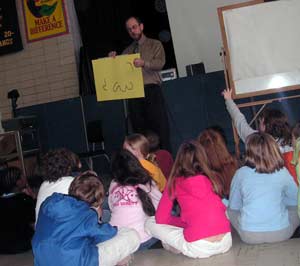 Here's one of the workshops, where we're trying to think what our doodle shape looks like. When we find an idea we like, we turn it into a character.