Return visits are always fun. It has been a number of years since I was last at Sporting Hill. Still, my old drawings from the first visit were waiting to greet me when I came in. It was like bumping into old friends. They reminded me of the creative minds of Sporting Hill kids. Here are the stories we invented on this visit.
The assembly drawings

The four ingredients: a bear in the woods looking for food up against a squirrel

The story: this is a fairly easy combination and a simple story. A bear has been waiting for his fall feast, but right before he's to dig into his pile of acorns, along comes a pesky, hungry squirrel!

As I look at this drawing now, I like how the bear's arms make a bit of an upward curve and the squirrel's acorns make a downward curve. I think this would make a fun tale!
---
The four ingredients: a mini-guy in the desert looking for a country with freedom with a silly sidekick of a muffin man

The story: Actually, the silly sidekick was supposed to be a guy who could shoot muffins out of his nose! But since I draw a lot of lines, I decided to "draw the line" at things flying out of noses!

Instead, I made a story about a little guy who gets work in a bakery where a chef is trying to find new sources of baking heat. The baker decides to try solar power to bake muffins, not knowing his little friend has fallen into the batter.

Now the mini-guy needs some freedom!
The Workshop Stories
A wonderful sketch of a sad pig started us on our journey toward creating a tale about a pig who can fly with magic glasses.

But once he lands on a mountain, his glasses fall off. He's trapped! Even worse, a wingless dragon finds the glasses and uses them finally be able to fly.

No wonder the dragon doesn't want to give them up!
---
Here's a fun story dreamed up by young students. In it, a raccoon is going to a carnival, where he hopes to show off how good he is at throwing a baseball. At a booth being run by a unicorn, all he has to do is knock down a bottle. His aim is not very good. Look at what happens! The elephant who runs the carnival now has a new game!
---
In another young story, a sheep dog pup is given a chance by his dad to watch a lamb. It's good training for him. But the lamb is a very naughty sheep. He runs away. When he leaps out onto a skinny rock, he's in trouble. A tornado is coming! But the young dog finds a board just in time to carry the lamb to safety.

I had fun pretending that the kids had said they wanted a giant TOMATO in the background! Silly me!
---
In this story, a cowgirl has a problem: she doesn't like all that cattle roping and horse riding. She wants to find a fabled magic tumbleweed that has amazing vines that just might help her impress her ranch friends.

But she gets more than she intended when she uses the magic vine to catch a rattlesnake!

It took me a rare THREE tries to get this drawing right!
---
In Mr. Whiskers is Missing, we have a girl who does science experiments in her basement. Her latest one involves a rat that she stole from a pet shop. She intends on returning it before anyone finds out.

But there's a problem! (There's always a problem!)

Her rat has escaped. And her experiment made the rat able to slowly grow bigger. You can see her here, outside in her town, listening to see if she can hear the patter of giant rat footsteps.

You think it might be easier just to turn around?
---
I love this simple drawing of a kid superhero. And I like the setting we came up with: a city in winter.

This kid has a marble that gives him superpowers, but he hasn't figured out what power that might be. Then disaster strikes: someone takes his marble!

How will he find out which classmate has the marble? He has to watch them closely to see if he sees any strange powers. In the end, he has to defeat Winter Girl and get back the marble -- without using any superpower himself!
| | | | |
| --- | --- | --- | --- |
| So, thanks to everyone who made these two days such a success. I love returning to schools like this -- where ideas keep on rolling! | | | |
Remember... you have great ideas. Share them!

In addition to all the free material on this site, I have downloadable books that are perfect for keeping kids writing in school or at home!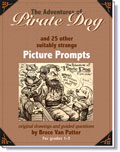 The Adventures of Pirate Dog
Picture prompts are a great way to inspire kids to write! Here are 26 of my best drawings with fun, pre-writing worksheets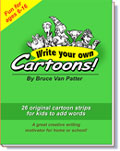 Write Your Own
Cartoons!
Kids can add the
dialogue and their special touches to my funny comic strips filled with wacky characters!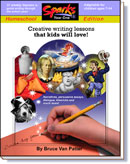 Sparks: Year One
Here's a fantastic resource for teachers: a whole year of weekly creative writing lessons built around wacky holidays!