Being in a school is always a treat. Being in a school for two days is a double treat. Being in a school like Sporting Hill Elementary is a double treat with whipped cream and a cherry on top! This is a truly creative place, with art decking the halls and kids ready to think outside the box.

There's so much to tell and show, so let's get started.
Assembly action!

Imaginations glow when the kids and I get working on stories and drawings

I don't have space to go into describing what's going on in the stories above. I think you can tell, though, that they're interesting, fun tales.

Workshops produce cool ideas, too. Here's a great kid working on turning a doodle into a character.

Drawing for kindergarteners!
One never knows what the Wheel of Fiction will come up with. And, kids -- that's the way it is with your imaginations. Let your minds spin out ideas. You'll enjoy the ride. And don't forget to share your stories with others!

Here's what teachers at Sporting Hill wrote about my time at their school:

About the asssembly:
"You did a good job of keeping the attention of the children... I don't know how you can think of what to draw so quickly!"
About the workshop:
"A wonderful, enthusiastic workshop -- full of audience participation and imagination stimuli! Great rapport with the students -- A fun way to help the students realize what a 'story' actually is and how they can bring it to life!"
Can you match the doodle character to the story that grew from it?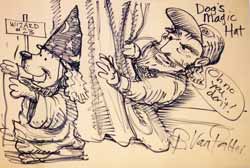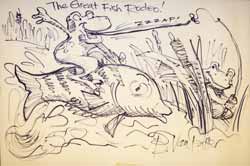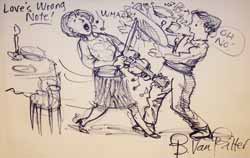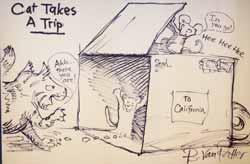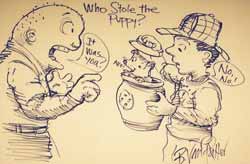 My favorite ideas that came out of this visit would have to include the question of WHAT IF different genies lived containers other than bottles. Like, what genie might live in a Diet Coke can?

Also, I loved the concept of a woman artist who travels the world to find mythological creatures to take photos of for reference for her life-like sculptures. Cool idea!

There were so many wonderful stories. I wish I could tell you about them. Better yet, why don't you ask a Sporting Hill student about one of these illustrations above.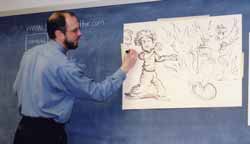 | | | |
| --- | --- | --- |
| | | This is just a sample of the treasure of art on the walls or Sporting Hills. I applaud the imagination of the art teacher, too! |