On my first trip to the lovely state of Maryland, guess what I found?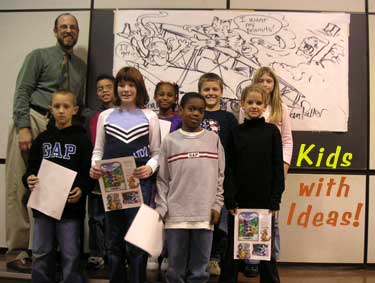 The students at Spring Ridge Elem. are ready to imagine. They're just full of stories and characters. It was tremendous fun for me to work with them for two days in a row -- plus an evening with parents! What a treat!

Watch out -- here come some creative kids!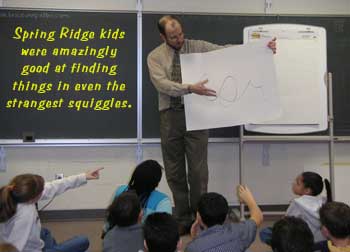 The assemblies provided some interesting combinations. Below, you'll see a dog trying to steal the golden egg of a Grrsquawk. What is that, you ask? I'm still not really sure, but it was fun drawing it!
In the second assembly, I got a chance to do a fun perspective. In this story, which a few kids and I added to in the evening, two animals are after a bag with a golden peanut in it. The one who finds that golden nut gets to be a pet of a millionaire!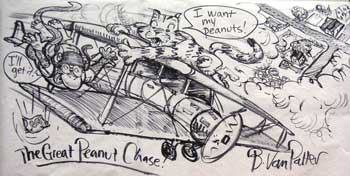 The evening gave me a chance to meet kids with their parents and talk about how to make up stories at home. I love getting parents involved. (And I have lots on my site for you parents too!) Using Wacky Headlines, we made up this strange headline. I'm not sure exactly what's going on, but it was fun talking about it!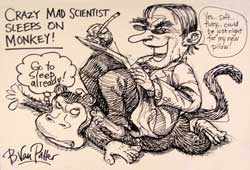 | | | |
| --- | --- | --- |
| | | When ideas are spinning, it's easy for me to draw. Here, I'm brushing up a bit on my drawing of a brush! |
Hey, thanks everybody -- kids, parents, teachers; and my wonderful assistants Mrs. Scheib and her son Jason -- for making my visit such a fun-filled time. I hope you were half as inspired as you made me feel!
One last piece of advice, kids...

remember that you are creative. If you want to stay that way, let your ideas out! Put them down on paper and share them with someone!
Amazing Stories!
Check out these stories: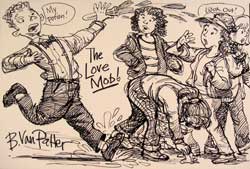 The Love Mob! tells of an inventor who tries to use a love potion on a girl he likes. When he slips up, he sprays all her friends but not her!
In this funny, funny story, we have a secret agent bunny entering a Carrot-Finding Contest. There's just one problem. He's afraid of carrots! He paints a face on this one, but it still scares him.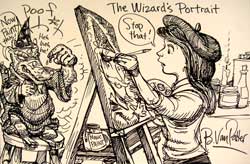 Here's another story I really loved. In The Wizard's Portrait, this artist girl wants to get more magic paint from a wizard. But he will only give it to her if she can paint his portait. Hey! No fair! He's such a cheat!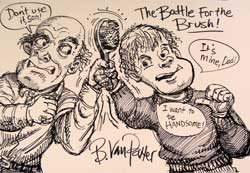 The Battle for the Brush tells of a homely boy who wants to use a magic brush to make himself handsome. But since it will only work one time, his father tries to stop him. The kids had lots of interesting reasons why the dad acts that way.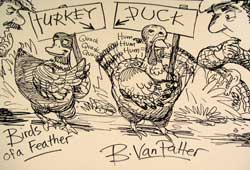 What's November without a good turkey of a story? Though I'm not very happy with my drawing, we had an interesting idea of a turkey trying to hide out with ducks.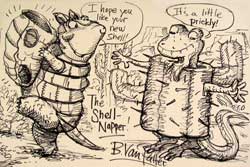 I've never drawn an armadillo in a school. This one is a little hamsterish, since I was working from the students sketch, but I like him this way. Here he's getting his stolen extra-shell back by giving the thief a different kind of protective covering -- a cactus!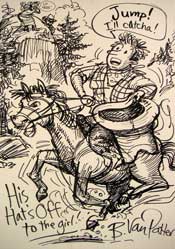 When a cowboy with a huge hat sets off to rescue his cowgirl friend, or is that cow girlfriend...no... cowgirlfriend... he manages to stay on a tough horse. And I somehow managed to draw the horse! (Not one of my favorite animals to draw.)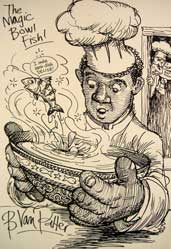 In The Magic Bowl Fish, a chef is trying to use a fish that makes "evey dish delish", but another chef wants to cook the little guppy!