This was my second trip to St. Cloud, but the first one that counted, since on the first trip, I dropped my compute and broke it before the first assembly. So imagine how happy I was to come back and make things right! This school was worth the wait -- what creative kids!
The assembly stories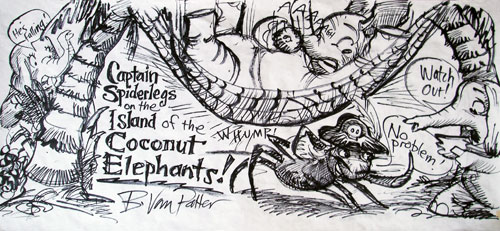 The four ingredients: a spider pirate on an island looking for a job up against an elephant
The story: a spider wanted to be a captain of a pirate ship, but the crew didn't want a spider captain. So they put him on an island. On this island, elephants gather coconuts in the high palm trees. Captain Spiderlegs tells the elephants that he can be in charge of safety. No one believes him. But one young elephant becomes his friend. Here he is trying to warn his spider friend of a falling elephant! But our hero has it all under control. He's put a very, very strong spider web in just the right place. I think the job will be his! And by the way, the boy who came up with Captain Spiderlegs was a kindergarten student! Fantastic!
---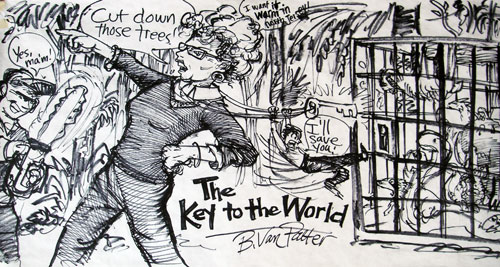 The four ingredients: a little guy in the jungle who wants the key to the world up against a retired teacher
The story: A boy goes to the rainforest on a trip, only to find that a retired teacher has shrunken the rainforest animals and put them in a cage with a magic key. The teacher wants to cut down the rainforest to increase global warming so that she won't have to move to Florida but can have Florida temparatures in her native North Jersey! Our little hero, also transformed into a little version of himself, is trying desperately to save the animals and break the magical power of the key.
---
Workshop fun!
Check out these stories which all came from our 45-minute workshops:
I love the hair on this doodle of a lion to the right. That fancy hair helped us think of a story about a lion in a zoo who wants to impress a lady lion. What he doesn't know is that at night, he sleep walks out of his cage, puts on the keepers' clothes and goes over to the lady lion's cage! In his sleep!

But imagine his surprise when the keeper, out doing his night rounds, finds the lion out of his cage. And I don't think he'll like his clothes being worn by a lion!
Here's a strange poodle, who has a girl with curly blonde hair as her master. They live in NYC, where the poodle likes to rescue people in Central Park when they go for walks. But there's a jealous Bully Cat who wants to get attention. So he captures the girl and sticks her into a tree.

So our dog hero has to go from tree to tree to find her master. But, she's not sure how she'll get the girl down, or even reach her in the tree. No problem -- the cat is a nice step ladder!

And why is Elvis in this drawing? I don't know. It was the end of the day when I drew it and I thought it was a funny touch.
This story, though it looks pretty strange, had a fantastic setting: a space station. On the station is our hero, a teenage inventor who wants to prove that he is worthy of the team that brought him along. So he came up with a new, radiated feed for the pet rabbit on the station. But he didn't know it would make the rabbit super-intelligent. And HUGE!

Everyone is afraid of the bunny, but in the end, it's the bunny who notices a meteor rushing toward the station. Since nobody would listen, the only way the bunny could save everyone is to sacrifice himself. He goes out into space and attacks the meteor, knocking it off course. Good by, good bunny!
Well, look at that: a whole day without any computer disasters! I like it better this way.

We had a great time today, didn't we, St. Cloud kids? Your ideas were flowing. My marker was flying. We laughed together. This is what happens when you use those great imaginations of yours!

Keep up the good work!
And while you're here, check out the fun stuff on my site!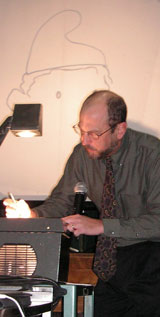 In addition to all the free material on this site, I have downloadable books that are perfect for keeping kids writing in school or at home!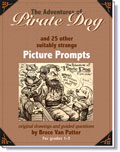 The Adventures of Pirate Dog
Picture prompts are a great way to inspire kids to write! Here are 26 of my best drawings with fun, pre-writing worksheets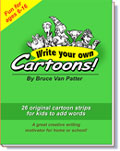 Write Your Own
Cartoons!
Kids can add the
dialogue and their special touches to my funny comic strips filled with wacky characters!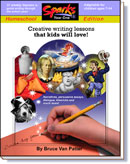 Sparks: Year One
Here's a fantastic resource for teachers: a whole year of weekly creative writing lessons built around wacky holidays!