Kind teachers and creative kids -- that's what I found at this school. My thanks to everyone who made the day such a fun experience! Here are the tales we invented during my visit.
The assembly stories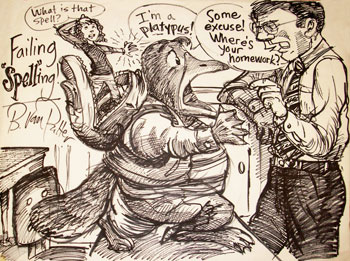 The four ingredients: a magical girl in a backpack who wants a boyfriend up against a giant, obese platypus
The story: How's that for a crazy combination? In this story, I thought the girl should be someone who has been trying to put a love spell on a boy she likes. But she has to get close to him, so she shrinks herself and sneaks into his backpack. Her problem is that she's not much of a student, so she doesn't take the time to really study the spell. When she tries it out, something goes wrong. He doesn't fall in love with her but turns into a giant platypus! The teacher doesn't think that is any excuse for not turning in homework!
---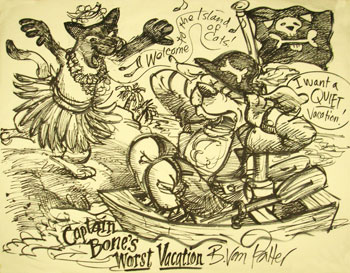 The four ingredients: a dog pirate in a ship looking for a vacation up against a siamese cat
The story: I feel sorry for our pirate dog hero. He's had enough of adventure. All he wants now is to relax for a week on a remote island. Unfortunately, he picks the one island where he won't get any peace and quiet -- the Island of Cats! One of them comes to meet him on a beach with a crazy dance and a song! Poor dog! By the way, I was really happy with the pirate flag I came up with for Captain Bones.
---
Workshop fun!
Check out these stories which all came from our workshops:
A girl needs to rescue her friend from the mountain village of the elves. So she disguises herself as an elf and sneaks into their stone village. Her plan is to sneak out her friend without being noticed.

Not so fast! An elf detective starts following her and grabs her hat, revealing that she isn't an elf.

So she uses her power to control weather to make a rainstorm to quickly sweep her and her friend down the mountain. But will she be able to get away from the detective?
---
I love the strange, square-head portrait made in this student doodle on the right. We decided it was a high school kid who turns into a dinosaur when he gets angry. He doesn't know that, so when he finds a strangle scale at his feet after tansforming back, he goes on a quest to find the creature. A girl he likes finally tells him the truth, but he doesn't want to believe her!

I enjoyed adding a title that reminds me of the old scary movies of the 50's.
Drawing is so much fun, especially when the ideas flow out of creative kids like St. Rose kids. We had a great time today. Now, don't let the ideas stop flowing.

Keep up the good work and share your story ideas with others.

And while you're here, check out the fun stuff on my site!

In addition to all the free material on this site, I have downloadable books that are perfect for keeping kids writing in school or at home!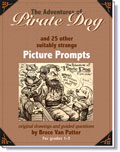 The Adventures of Pirate Dog
Picture prompts are a great way to inspire kids to write! Here are 26 of my best drawings with fun, pre-writing worksheets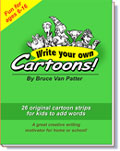 Write Your Own
Cartoons!
Kids can add the
dialogue and their special touches to my funny comic strips filled with wacky characters!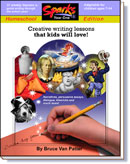 Sparks: Year One
Here's a fantastic resource for teachers: a whole year of weekly creative writing lessons built around wacky holidays!