I love Williamsport. In school after school in this city, I've found great kids -- like these in Stevens -- who are...

And stories were flowing all day. Funny stories, exciting stories. Some ideas were flat-out weird. But that's just fine with me. When we have lots of ideas, we have interesting stories!

Let me show you what I mean:
Here are the two stories that came out of the assemblies. In this first drawing, a monkey wants something new for his lunch -- he's tired of bananas. When a dog won't swap, the monkey makes his move! But the teacher giraffe is watching!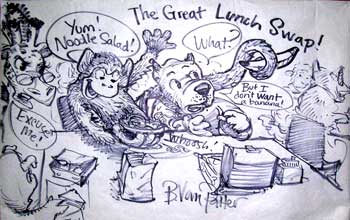 ---
Then in the other assembly, I was stumped for a minute when I was given a bad guy of a tiger-gorilla. So I did this: a girl detective is trying to find a missing magic lamp in the woods, taking along her pet cat. When the thief squirrel sees them coming, he transforms the pet into a huge, hulking gorilla-sized tabby! Ha! Thought they got me, didn't you?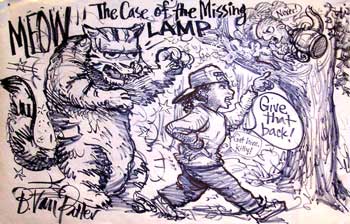 And when you've got great imagination kids, you get great doodles and stories!


Then in the evening we spun more tales as kids brought back their parents to hear me talk about how to make up stories as a family.

That was such a blast!
Hey Stevens kids! Keep using your ideas! Why not try out some of the activities I have right here on my site? You can find a list of them at fun stuff.
Remember, you are creative!
Three workshops... three fun stories!
Check out these ideas: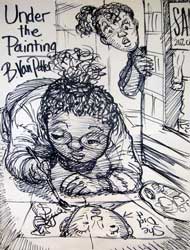 Under the Painting. Now, what do you think makes kids think of a painter as a main character? Okay, it's probably me. Here, a girl painter has hidden stolen jewels under a tile in the mall. She enters a tile painting contest and thinks she'll be able to remember which tile her treasure is under. Ah, but there's a problem: her friend knows her secret. So here she is painting a picture accusing her friend of being the thief!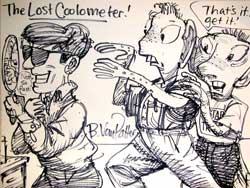 In The Lost Coolometer, I have to admit, I came up with that name. It descibes those sunglasses which have a little gauge that only the wearer can see which tells him how cool he's being. This guy found the coolometer glasses, but doesn't know that they really belong to geeky aliens. How do you like my geeky aliens? I'm pretty proud ouf them.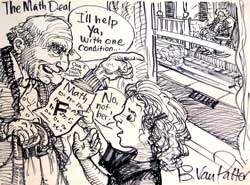 This girl, in The Math Deal, has failed her math test. She decides to run away instead of telling her parents. She only gets as far as across the street, where an old guy lives. Though he's a little scary, she knows her parents like him. It turns out he's a math genius, but he'll only help her if she helps him. How? By getting him a date with her grandmother!
| | |
| --- | --- |
| | |
| I love drawing pigs. I never turn my snout up at a chance to doodle one. Guess I should have gotten a degree in swine art! | |