They say you can't judge a book by it's cover. Well, I have a different saying: you can judge a school by its walls. If the walls of a school are covered with artwork, then you can bet the the students there love to create. Judging by their walls, Stewartsville Elementary is a place where learning is FUN!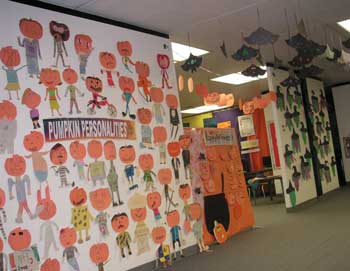 Stories from the assemblies:
At the end of the assembly, I have two teams of kids come up. The first team turns doodles into drawings.
I'm always delighted by the results. My Doodle Teams are always so eager to put their ideas down.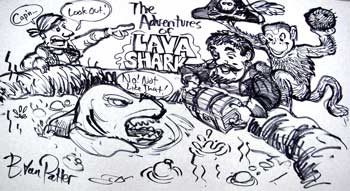 Then I get another team of kids to give me ideas for a story, which I combine no matter how random they are. Here, a shark lives in a volcano! (I wish I had drawn a better shark. I'm going to work on my sharks.) Pirates plan to hide their treasure in the lava, but not if Lava Shark and his silly monkey sidekick can help it!
---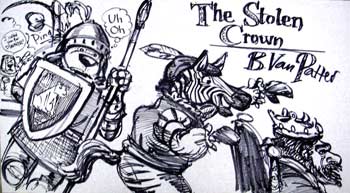 In the other assembly, a zebra is trying to take back a stolen crown. A dog guards the castle, but isn't very sure of himself. So he puts on armour, but then finds he can't move. His grandmother, outside the castle, throws a stone to get his attention (some nice granny she is!) but knocks him over toward the zebra. Will the zebra escape with the crown? I don't know. I never have time to finish the stories.
---
| | | |
| --- | --- | --- |
| | | More pictures from the day! |
Stewartsville kids -- I love your energy! I can tell you love to make up stories. Keep up the good work, even when learning all the rules makes it tough. It's worth it!
Why not try out some of the activities I have right here on my site? You can find a list of them at fun stuff. Remember, if you want a great idea, have lots of ideas!
Aliens, giants, and really smart dogs.
Check out these stories: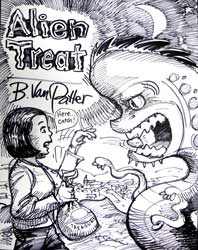 Alien Treat. We started this story with an interesting picture of a girl on a mountain with her arms outstretched. In the end, the wheel added in an alien. So this girl is trying to get past an alien guard-animal to take some treasure, which happens to be the animal's favorite snack!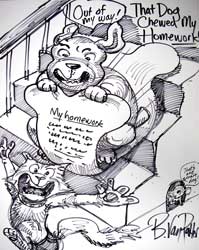 In That Dog Chewed My Homework, there was another excellent idea for a story: a dog that gets smarter with every correct homework paper he eats! He goes into a house of a genius kid and runs into a very flexible cat that wants to stop him. The bone he's riding on is the homework.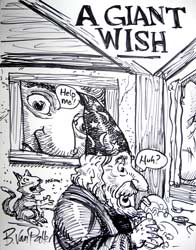 What can a giant do if he doesn't want to be a giant any more? He could try to get a wizard to help. But what if the wizard is afraid of him like everyone else? A Giant Wish a good story for talking about how writers can work into their characters feelings and experiences they've had. Everybody has wanted to change themselves in some way.
My thanks go to the girl in the picture on the left who drew an amazing giant from our squiggle. And it looks like she can do it with one hand tied behind her back!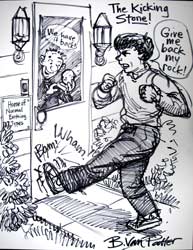 This story, just like the others, has a fabulous central idea. Here, a boy who gets easily frustrated works out his anger on The Kicking Stone, which he carries around with him. What he doesn't know is that the stone is actually an alien egg!
I really liked the thinking that went on in this workshop. Kids came up with a great reason for the aliens to be here with their egg -- to stay safe while they wait for the egg to hatch. Another example of quick thinking came from a girl who thought the aliens look just like humans except they only have three fingers!
I wonder what the boy will do to get the egg back? And what will hatch from it?
Great stories!