After seeing this amazing view outside the school, I walked in the front door and found this amazing mural on the wall. I knew I was in for a good day -- one filled with imaginative kids.

I was right!

Let me show you some of the creative fun we had...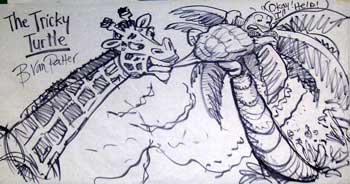 Half way through this drawing from our first assembly, I decided to try a "looking down" perspective. I wish I had thought of that when I was drawing the giraffe. But still, I do think it's funny to see a sea-turtle up in a palm tree. Hang tough, dude!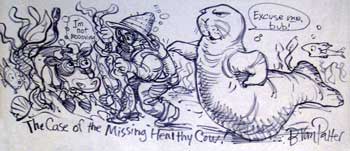 And this combination of elements was as close as I've ever been to being stumped by an "Imagination Team". I was given a detective under the sea looking for a used tissue, up against a cow. Okay, I changed the tissue into a cold remedy -- which is the Healthy Cow who gives amazingly healthy milk -- but I thought I'd throw in a "sea cow", too!
A great day for workshops:

I had helpers throughout the day -- kids who could squiggle, others who could turn squiggles into drawings, and plenty of kids with ideas just bursting out of them.

---

And here's one of the strangest characters ever to be seen in a squiggle. It just so happens that it's from the one showed above.

Can you tell which story has this character?

---

| | |
| --- | --- |
| | I hope you guys learned that interesting stories can come from almost anywhere. Keep noticing things and use your imagination, and you'll be finding ideas all around you! |
And don't forget to try some of the fun on my site! Check out fun stuff. It's a great place to keep your creativity growing!
New workshops, new ideas!
Check out these stories: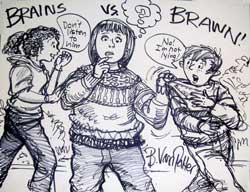 Brains Vs. Brawn. A muscular girl wants to be liked by a brainy nerd. She's on a quest to get to his house before he moves away, but he's left a number of puzzles for her to solve to find her way there. Here, she can't decide if she should listen to her best friend, or her annoying brother.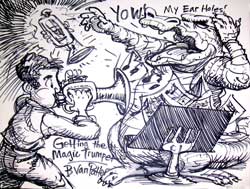 In Getting the Magic Trumpet, a horn player wants a magic horn, but has to get it from a trumpet playing alligator! Interesting.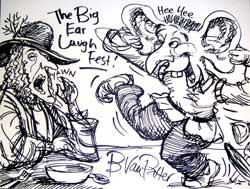 This goofy guy has ears that get big whenever he hears a certain sound. After much discussion, we thought he might have to make a magic woman laugh to take off the spell on his ears, in The Big Ear Laugh Fest.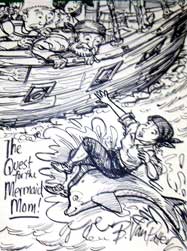 Here's a great story: a mermaid sets out to rescue her mom from the ship of fishermen pirates. But being transformed into a human doesn't make her a great sailor. So when she falls off the rigging, she's saved by her dolphin friend who has been trailing the ship!
During the day, two teachers stuck forks onto my drawing area. (Don't ask... it's too long a story.) So, I had my revenge. I drew forks in every drawing in this column!