The Assembly Stories
The four ingredients: a gorilla in a candy store looking for a jewel of power up against a hamster

The story: Though the gorilla is our main character, he isn't a good guy. He's after a jewel he hears is hidden in a candy shop. So he gets a job there, hoping he can find it.

There's one bowl of candy he's not allowed to touch. It's under a glass dome. But when a dog comes in to ask for candy, the gorilla thinks its his chance to take a peek.

Surprise! The hamster who owns the shop was hiding in there jus waiting for him!
---
The four ingredients: a genius girl in a swamp looking for a giant dung beetle with a silly sidekick of a flying frog/bulldog/cupid

The story: Our main character is a woman researcher who heads out to a swamp to see if she can discover a huge beetle. Her lab creation, a huge muscular flying frog comes with her. He thinks he's like cupid and hopes to find a boyfriend for the woman.

I don't think she's all that happy to have some swamp dude falling for her.

I actually forgot to put the title on the finished drawing, so I added it here.
The workshop tales
This was a delightful story. A turtle has heard from an old turtle that out in the middle of the lake is a magic rock that can make the first creature to step on it swim faster than a fish. Being a slow creature, our turtle is so excited about being fast that he tells everyone about the magic rock.

But then, when he comes down to the lake's beach to swim, he finds three other forest animals ready to beat him to the rock! They all make fun of him and say that there's no way he can win.

Looks like our turtle took the right steps to win!
---
This story started with a doodle of a little guy in a boot. We imagined that he lived in a really cool setting: an abandoned boot store in a ghost town out west. He used to help the owner make boots, like the story of the Elves and the Shoemaker. But now he's all alone. He wants to leave with someone, but he's terrified of people.

Along comes a traveling western clothes designer. She's traveling around trying to find someone to buy the clothes she makes. She stops in the town even though it's a spooky place.

When she stops in the shop, she hears something moving in the dark shadows. Who do you think is more afraid? Will they be able to help each other reach their dreams?
---
Though we started with an interesting doodle of a kid holding a bag, we had a hard time building a story around him.

In the end, we managed to throw together some of the ideas that were floating around, including him stealing potatoes and a leprechaun. We decided that he's wandering around trying to collect ingredients to make some medicine for a sick friend. Apparently one of those ingredients is a golden potato from the garden of a leprechaun!
Let me share a few final thoughts...
Hey, kids, I told you that you were creative! I hope you're excited about getting your story ideas down on paper. And when you do, make sure you show them to others. Sharing your ideas with friends is one of the very best ways to stay in a groove with your stories.

Thanks to everyone for a great visit.

And while you're at my site, feel free to wander around. There are lots of fun things to see. Some of them are bound to spark your imagination!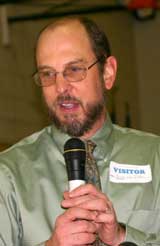 In addition to all the free material on this site, I have downloadable books that are perfect for keeping kids writing in school or at home!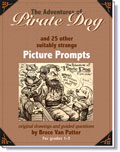 The Adventures of Pirate Dog
Picture prompts are a great way to inspire kids to write! Here are 26 of my best drawings with fun, pre-writing worksheets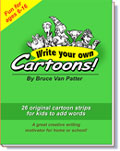 Write Your Own
Cartoons!
Kids can add the
dialogue and their special touches to my funny comic strips filled with wacky characters!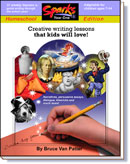 Sparks: Year One
Here's a fantastic resource for teachers: a whole year of weekly creative writing lessons built around wacky holidays!