The assembly stories
The four ingredients: a dog on a hill looking a friend up against a tiger

The story: a dog has a butterfly friend named Flutter. One day, she fluttered away. Where did she go? Up a nearby hill. So our dog grabbed his net and ran to get her.

But Flutter landed on a tiger! Why? Because the tiger had another butterfly in a jar. Flutter knew that butterfly!

I was really proud of an all-kindergarten Story Team who came up with these ingredients. Way cool!
---
The four ingredients: a fire-snake in the jungle looking for a rocket up against a badger

The story: An alien snake that could breath fire crashes into the rainforest. He falls down to the ground and can't find his ship.

But there is a badger explorer who finds him and wants to escape the jungle by turning the snake into a rocket!

Poor snakey!
---
The four ingredients: a magical rock star in a prison looking for a magic guitar that can make people go to sleep up against a little magical guy who just stole something

The story: Wow -- what a list of ingredients! I don't think the plot of this story is as important as the fun process we went through putting it on paper. As soon as I heard the elements "rock star in jail," I knew I had to play "Jailhouse Rock" by Elvis.

Later, when finishing the drawing, I realized I could add one more reference to music. I added a mouse commenting to the complaining dog: "What do you know, you ain't nothin' but a hound dog!"
---
The four ingredients: a fish man on the Eiffel Tower looking for a pair of shorts (or underwear, depending on how you look at them) with a bear as a silly sidekick.

The story: Again, this combination is totally crazy, which made it hard to come up with a story that made sense. It had something to do with a superhero being turned into a fish and needing magical shorts to transform him back, but his sidekick decided to use them to parachute to get help.

Mostly, I was proud of my fast rendering of Paris below. That's a hard thing to do quickly!
---
The four ingredients: a superhero squirrel in a cave looking for a vacation with a dog for a silly sidekick

The story: Imagine you're a superhero and all you want is a week off from saving people. So, your best pal, Muttsy, tells you that the perfect vacation is exploring a cave!

So, when a giant caveman threatens Muttsy, what would you do? Leap into action? Or act like the squirrel in my drawing?
---
The four ingredients: a frog on a snowy mountain looking for a banana up against a snow monkey

The story: A frog is tired of eating flies. He hears that there are giant, delicious, frozen bananas up on the peak of a snowy mountain. He decides to get one.

And it seems like he'll make an easy getaway, using the banana like a snowboard.

But think again, froggy! That snow monkey was just waiting for you!
The 4th grade workshop stories
In this story, we had a girl who was working for an organization that wanted to free zoo animals. (The No Zoo Organization.) Her job was to take her shrinking powder in, mix it into the bowls of water the animals use and sneak them out to freedom.

But she was only shrinking the animals in order to keep them herself! So one night, as she was going in to shrink an elephant, everything goes wrong.

First, someone (we think the zookeeper) messed with her powder and created just the opposite effect -- it made animals into big monsters. Then, who shows up but her boss from N.Z.! Somehow, she's got to save the monster elephant AND save her boss!
---
Here's another story about a kid who has a small animal. This boy received a box in the mail by accident. In it was a small, magical creature. The boy decides to wait until he really needs help before using the creature's magic. But in order for the box to remain a secret, he keeps mailing it to himself.

But there's one catch. If he doesn't open the box and talk to the creature every five days, the creature could grow and become dangerous.

So imagine how worried the boy feels when the box becomes missing! It turned out, after a hurried search all over town, that his grandpa was returning the box to the post office to find out why they keep getting it. Looks like the boy is getting there just in time!
---
We thought this doodle on the right was a little kid superhero. And we imagined that he hadn't really figure out how to use his superpower -- super speed.

One day, he is forced to go camping with his good friend. He has been trying to avoid camping because he's worried that his friend will find out that he's not a very good hero.

He had a good reason to be worried. A bear shows up and threatens the friend. So the boy summons up all his courage and zips in to grab the friend. Oops! Looks like he was going too fast to notice what he was doing!
---
---
Want to motivate young writers in your life?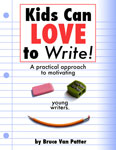 This book can help!
I've collected 39 of my weekly emails to teachers on creative writing into one downloadable book. Kids Can Love to Write captures the essence of my approach to making writing fun for kids. Whether you have an enthused young writer or one that needs big motivation, this book will show you how to get the most out of their imaginative minds.
Find other creative writing helps at my store!
---
New on my site!


I love random connections! Here's a page that will create random What If Questions to help you start stories!
---
Remember, Warren kids: use your creativity. Keep writing. Keep drawing. Don't forget how much fun it is to get your own ideas out and onto paper! Your ideas are too amazing to have gathering dust in your brains. This summer would be a great time to get together with a friend or two and make a book, or comic book, or a series of fun drawings. Let your imaginations soar!