This was one fun school! Look at the stories we were able to invent...
The assembly drawings
Check out these stories:
The four ingredients: a rock star on a TV set looking for a pet dog who can shoot lasers out of his eyes up against a jealous guy

The story: our hero is a man who wants to be a famous rock star. But he has no money, so he gets his 70's clothes out of a Good Will store and the only lighting he can afford is a dog who has spotlight eyes (I thought the lasers might be a bit strong).

But his brother also wants to be famous, so when our rock star tries out on the new show America's Newest Rock Star, the brother joins too. He grabs the spotlight by luring the dog with a dog-biscuit bow tie!
---
The four ingredients: a bull in the forest looking for a friend up against a zebra

The story: It's hard to tell who is the hero is and who is the bad guy in this drawing. That's because I thought it would be fun to have a bull who always scares visitors away by his loud, crashing stomps. He wants to have a friend, but he doesn't know how to be gentle.

A zebra shows up one day and instead of running right away, he taps the bull on the nose and THEN runs away. The bull doesn't understand why he does this. Only after many chases does he come to understand how the game of tag works.

I think he might have just found himself a friend!
The workshop stories
I like this story about a geek who is a secret superhero. He's in Superhero Training School and his homework over the weekend is that he has to save someone from danger.

He uses a secret key to get to his special hide-out behind a waterfall. When he finds his key is missing, he has no idea that it's a friend of his from the class who wants to get the best grade and hopes to take his secrets.

But here, we can see that she's gotten herself into danger and is about to fall into the waterfall! Good thing our hero was there to save her.

And now, he'll get that A after all.
---
And lastly, here is a story about a turtle who runs a package delivery service in the woods that belong to a king. After many tries to return a magic fish to the stream, the king turns to the turtle.

But the turtle doesn't listen to the king's warning not to make any wishes along the way. When the turtle wishes he could be fast, the fish takes him on a wild ride -- straight toward the river! Oh no -- the turtle can't swim!
---
Isn't it fun to work together to make up stories? I love being a part of a creative group, especially when kids are in the mix, too.

You Washington students have great ideas. Make sure you put them down onto paper and share them with others.

Keep being creative, and check out the fun stuff on my site!

In addition to all the free material on this site, I have downloadable books that are perfect for keeping kids writing in school or at home!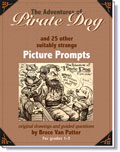 The Adventures of Pirate Dog
Picture prompts are a great way to inspire kids to write! Here are 26 of my best drawings with fun, pre-writing worksheets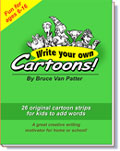 Write Your Own
Cartoons!
Kids can add the
dialogue and their special touches to my funny comic strips filled with wacky characters!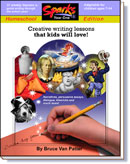 Sparks: Year One
Here's a fantastic resource for teachers: a whole year of weekly creative writing lessons built around wacky holidays!