My day spent in Westgate -- the first school I've done in Virginia, but hopefully, not the last -- showed me it was a...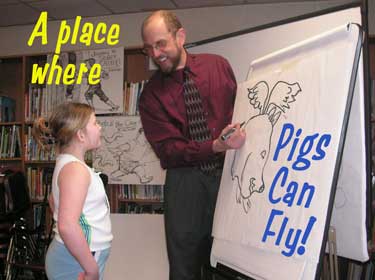 In this picture, you see a student with whom I helped to create a flying pig character. That's what I love about the time I spend with kids. Anything can happen. Pigs can fly. Elves can live in alleys. And knights can invent ice cream. Imaginations are amazing. Let me show you some of the fun we had today.
Daring Doodlers!

These are some of the kids who came up with doodles based on a couple squiggly lines I made. These kids all came up with different ideas. There are no end to the ideas that kids can have! And I want kids to know how much fun it is to find new ideas.

In the first assembly, we had an interesting combination of a dragon in a jungle. I really like any time we mix things up. Everyone thinks of dragons and castles, but this one lives in a rain forest! Cool! So I thought I'd put plants growing on him like they do on trees. That way, he can disguised himself better.

And in the second assembly, we had another interesting mix. A knight and an ice cream shop are two ideas that don't usually go together. So I made it a fair in the Middle Ages, when a knight inventor goes up against a Waffle Wizard! Fun!

| | | |
| --- | --- | --- |
| | | Here is one of my teams of kids who helped me in the assemblies. All the kids I brought up had great ideas. I knew that Westgate kids were creative, and I was right! |
Hey, Westgate students! I have a message for you:
Thanks to everyone who helped to make this such a great day for all. I hope you all had as much fun as I did. And now that we've gone back to our regular life and schedule, let's not let the creativity stop! Keep using your imaginations, students!
Why not do something with an idea today?
Amazing Stories!
Check out these stories: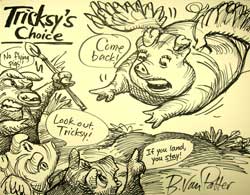 Yes, pigs can fly. In Tricksy's Choice, a flying pig tries to rescue a friend from the mud pigs' village. I really loved hearing the rules that the kids made up for the two pig kingdoms.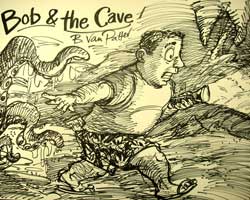 This story, Bob & the Cave, had an interesting hero. He's a lazy guy who hates adventure. But he's trying to discover in a cave the secret treasure. We had fun imagining what might be waiting for him in there!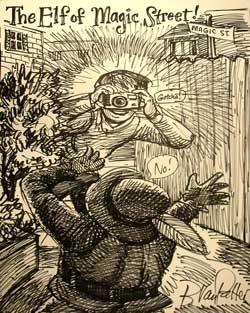 I loved the idea in this story that puts an elf in a city setting. This boy, a lonely lad who is into photography, wants to take a picture of him so that everyone will respect him more. I wasn't sure if I could get the effect of a flash going off, but I think it turned out okay. What do you think?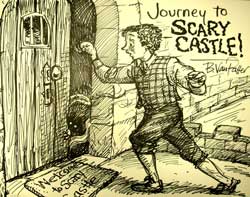 In Journey to Scary Castle, a boy has to overcome his fear and rescue his sister and pet lizard from a nearby castle. I liked the road and beginning of a building that came into the doodle you can see being drawn on the left. That gave us even more to work with than our usual character doodle!